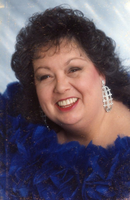 Rosalie A. Loparco
Rosalie A. Loparco
Rosalie A. Loparco, 69, of Holland Patent, passed away on Monday, April, 17, 2017 at St. Elizabeth Medical Center, Utica. She was born in Rome, NY, on January 27, 1948, daughter of the late Lawrence Vaughn, Sr. and Rose DePalma Vaughn. Rosalie was a graduate of Holland Patent High School. On May 17, 1981 she married Paul A. Loparco, in St. Leo's Church, Holland Patent. Rosalie was a former employee of Rome Developmental Center. She was a member of St. Leo's Church.
Surviving besides her husband Paul, are a sister and brother-in-law: Lorriane and Gene Babcock, Marcy, a brother and sister-in-law: Lawrence and Diane Vaughn, Holland Patent and several nieces and nephews. She was predeceased by a sister: Marlene Tanner.
A Mass of Christian Burial will be celebrated on Friday at 11:00 a.m. on April 21, 2017 at St. John the Baptist Church, 210 E. Dominick St., Rome, with the Rev. Paul F. Angelicchio officiating. Burial will be in Townsend Cemetery, Stittville. There are no calling hours.
In lieu of flowers, memorial contributions may be made to the Humane Society of Rome, Inc., P.O. Box 4572, Rome, NY 13442- 4572 or Floyd Volunteer Fire Department.
Arrangements are by the Nicholas J. Bush Funeral Home, Inc., 7751 Merrick Rd., Rome.
To offer online condolences, please visit www.njbushfuneralhome.com