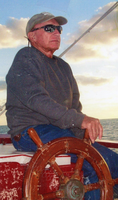 James W. Holmes
James W. Holmes
James W. Holmes, 85, of Verona Beach, NY, passed quietly in his home on Thursday, May 11, 2017 with his loving wife, Betty, at his bedside. Jim was born in Oneida, NY on November 25, 1931, son of the late Edwin Warren and Lillian Bentley Holmes. He was raised and passed away in his same family home at Holmes Marina—a marina he built up from the first boat dock to the last. He managed and maintained the marina to the last with Betty and a loyal, talented crew he mentored throughout the years.
Jim was a retired highway maintenance supervisor for the New York State Department of Transportation. He graduated from Oneida High School and attended Utica College. Among his many hobbies were piloting light airplanes in the beach area, sailing and water skiing on Oneida Lake and boating in Florida on the Withlacoochee and Crystal Rivers, snow skiing at Snow Ridge, and motorcycling wherever his Harley would take him. He loved operating his crane and travel lift and was an expert running it and all heavy-duty equipment.
Surviving are his wife, Betty (Traut) Holmes, whom he married on September 24, 1976, a daughter and her spouse, Jacqueline and Bruce Hodge, Old Forge, a son, Edward Holmes, Verona Beach, step children and their spouses; Willie and Tekla Martin, NJ, Christine Peterson, Verona Beach, Cindy and Mike Brown, Baldwinsville, Donna and George Clark, North Bay, fifteen grandchildren and their spouses, eleven great grandchildren, and one great, great granddaughter.
A Prayer Service will be held on Tuesday, May 16, 2017, at 7:00 p.m., at the Nicholas J. Bush Funeral Home, Inc., 7751 Merrick Road, Rome, NY. Friends may call at the funeral home on Tuesday, May 16, 2017 from 4 - 7 p.m. A private Burial Service for the family will take place the following morning at Fish Creek Cemetery, Verona Beach, NY.
In lieu of flowers, memorial contributions may be considered in James' memory to the Sylvan Beach Volunteer Fire Department, P.O. Box 503, Sylvan Beach, NY, 13157 or Hospice and Palliative Care, 4277 Middle Settlement Rd, New Hartford, NY 13413.
To offer online condolences, please visit www.njbushfuneralhome.com