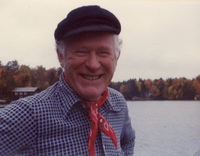 Harold Cohen
Harold Cohen
Harold Cohen, 97, of Arvada, Colorado, formerly of Rome and Fourth Lake, passed away on Wednesday, June 21, 2017, at Bear Creek Center, Morrison, CO. He was born in 1919 in New York City, the son of the late David and Bessie Cohen. After high school graduation, Harold attended college briefly and then enlisted in the U.S. Army Air Corps as an Airplane Hydraulic Specialist, from 1942 to 1946. He served in Europe and the United States during WWII. While stationed in Rome, N.Y., he met Josephine Navelli, whom he married on July 28, 1946. She passed away, July 17, 1967. Harold worked for his brother-in-law, August J. Navelli, as General Manager of Navelli Cadillac-Oldsmobile until his retirement.
Surviving are his daughters, Linda Schofield, Arvada, CO and Maxine Cohen, Albuquerque, NM; two granddaughters, Sarah Eiden Roberts and her husband Todd, Arvada, CO, and Dophkah Wasmuth, Phoenix, AZ; one great-grandaughter, Aspen Smith, Arvada, CO, whom Harold adored; a sister Renee Lieberman of San Francisco, CA; several cousins, nieces and nephews. He was predeceased by his wife, Josephine, a brother-in-law August J. Navelli, sisters-in-law and brothers-in-law, Anna and August Fiorenza, Mary and George Mecurio; and a special cousin and good friend, Mel Morris, and special friend and longtime companion, Marilyn Chazan Benoit.
Graveside Services will be held on Tuesday, June 27, 2017, at 12:00 p.m., at Rome Cemetery. Friends may call at the Nicholas J. Bush Funeral Home, Inc., 7751 Merrick Rd., on Tuesday from 10:30 a.m. to 11:30 a.m.
Memorial contributions may be made to the Disabled American Veterans, P.O. Box 14301, Cincinnati, OH, 45250 or at www.dav.org.
To offer online condolences, please visit www.njbushfuneralhome.com