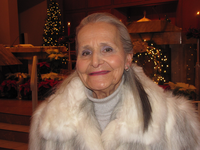 Dorothy P. McGuinness
Dorothy "Doreen" McGuinness of Rome died peacefully Thursday, June 22, 2017 at St. Joseph's Hospital in Syracuse after a lengthy illness. She was born on November 11th in Bronx, NY, the daughter of Robert and Lillian.
Dorothy dedicated her personal and professional life compassionately caring for others. She was a nurse and later a child caregiver nurturing dozens of children in her home for 40 years. In recent years Dorothy enthusiastically volunteered for the Shamrock Animal Fund created by her daughter Jamie and son-in-law Matt to pay for veterinary care for local animals in need. She especially enjoyed helping pets and their owners at the Healthy Pet Clinics hosted in the most impoverished neighborhoods of Syracuse.
Dorothy was a devoted mother and shared her maternal warmth with everyone. She had a kind heart and a generous spirit. Dorothy was loved by many and a friend to all.
Dorothy is survived by her daughter Jamie Pomilio-Mulcahy and son-in-law Matt Mulcahy of Fayetteville, NY and several nieces and nephews. She was predeceased by her former husband James N. Pomilio and their infant son James Paul.
Calling hours will be held on Wednesday, June 28, 2017, from 5-8 p.m., at the Nicholas J. Bush Funeral Home Inc. 7751 Merrick Road, Rome, NY.
A Memorial Mass will be held at St. Peter's Roman Catholic Church, 200 N. James St., Rome, NY, officiated by the Rev. Philip A. Hearn and a celebration of Dorothy's life will be scheduled in the near future.
In lieu of flowers, memorial contributions can be made in Dorothy's name to the Shamrock Animal Fund, 7815 Karakul Lane, Fayetteville, NY 13066 or online at ShamrockAnimalFund.com.
To offer online condolences, please visit, www.njbushfuneralhome.com