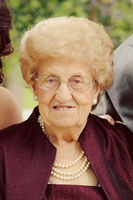 Angeline M. Madonia
Angeline M. Madonia
Angeline M. Madonia, 91, of Rome passed away on Monday, July 3, 2017 at Rome Hospital after a brief illness. She was born in Rome, NY, on October 31, 1925 daughter of the late Dominick and Beatrice (Telesca) Coviello. Angeline was educated in the Rome school system. A twenty five year employee of Rome Hospital, Angeline thoroughly enjoyed working with her colleagues on the third floor nursery as she assisted in bringing new life into our community. She sparkled while tending to the needs of all the newly born infants and treated each baby as if he or she were her own. Angeline marveled at the dedication and the professionalism of the nursery medical team and formed close bonds with each staff member.
A fervent advocate of education, Angeline relished in the achievements of family members by never missing a graduation ceremony, academic awards assembly or athletic event. She enthusiastically believed that a strong educational background unlocked the doors to innumerable opportunities and always participated in the elections of school board members and referendums. She was a proponent of getting the best people on the Board of Education to serve the educational needs of our community.
A communicant of St. John the Baptist Church in Rome, and a member of Ava Dorfman's Senior Citizens' Center, Angeline will always be grateful to the late Mrs. Dorfman's dedication to Rome's senior citizens and lauded her organized excursions as the best money could buy.
She is survived by her two sons and daughters-in-law; Dominick (Joann) Madonia of Rome, and Anthony (Anne Marie) Madonia of Syracuse. Mourning in her loss are her precious grandchildren, Matthew (Kate) Madonia, Syracuse, Angela (Michael) Scheiderich, Clinton, and Cody Madonia, Rome. Angeline was blessed with three cherished great grandchildren, Bridget Scheiderich, Leander Scheiderich, and Sasha Madonia. Also surviving Angeline are a cherished sister-in-law, Frances Salvaggio, and countless nephews and nieces. Angeline's two cats, Kitty and Sophia, were a source of great pleasure for her. In addition to her parents Dominick and Beatrice, Angeline was predeceased by her husband of fifty years, Joseph A. Madonia, and two brothers, Andrew and Michael Coviello who was killed in action in World War II. Michael's death had a profound effect on Angeline in her belief that wars were a tragic and futile exercise of human failure.
It is the wish of Angeline's family to express heartful gratitude to all the caregivers of the Rome Hospital, especially Margaret Sheiderich Rome Hospital Social Worker, who was invaluable for her input, recommendations and compassion concerning Angeline's care, and Bethany Gardens who treated Angeline with kindness, and respect during her illness. The family would be remiss not to mention Alberta Ciccone, Angeline's personal hairdresser and very good friend who also gave her that perfectly "coiffed look" of which many people commented.
A Mass of Christian Burial will be celebrated on Saturday at 9:00 a.m., at St. John the Baptist Church with the Rev. Paul F. Angelicchio officiating. The family will receive friends at church from 8:30a.m. to 9:00 a.m. prior to her Funeral Mass. Burial will be in St. John the Baptist Cemetery. There are no calling hours.
In lieu of flowers, contributions may be made to the Rome Humane Society, P.O. Box 4572 Rome, N.Y. 13442 or the Wounded Warriors Project, P.O. Box 758516, Topeka, KS 66675
Arrangements are by the Nicholas J. Bush Funeral Home, Inc., 7751 Merrick Rd.
To offer online condolences, please visit www.njbushfuneralhome.com