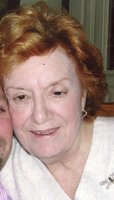 Sylvia R. Colangelo
Sylvia R. Colangelo
Sylvia R. Colangelo, 80, of Rome, passed away Saturday, July 22, 2017 at St. Joseph's Hospital, Syracuse, with her loving family by her side. She was born in Worcestor, England, on October 7, 1936 daughter of the late Walter and Rose Freeman Darke. On June 4, 1960, she married Paul A. Colangelo, in St. John the Baptist Church. Sylvia was a member of St. John the Baptist Church.
Surviving besides her husband Paul, are three daughters and sons-in-law, Lisa and Mike Riolo, Lynn and Rick Labuz, Michelle and Mark Nashton, all of Rome, two sons, Paul S. Colangelo, Rome, and David Vincent, Canastota, several grandchildren and great grandchildren. Also surviving are two sisters, Joyce and Susan. She was predeceased by a brother, Arthur and a sister, Doreen.
A Mass of Christian Burial will be celebrated on Wednesday, July 26, 2017 at 11:00 a.m. at St. John the Baptist Church with the Rev. Abe Esper officiating. Burial will be in St. Mary's Cemetery. Friends may call at the Nicholas J. Bush Funeral Home, Inc., 7751 Merrick Rd., on Tuesday from 4-7 p.m.
Memorial contributions in Sylvia's name may be made to the American Cancer Society, 100 Lomond Ct., Utica, NY 13502
To offer online condolences, please visit www.njbushfuneralhome.com