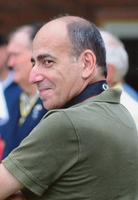 Frank A. Salvaggio
Frank A. Salvaggio, 58, of Rome, passed away peacefully, Saturday, August 5, 2017 at St. Luke's Hospital, New Hartford, with his loving mother and sister at his side.
Frank was born in Rome, NY, on June 17, 1959, son of Vito P. and Frances Madonia Salvaggio. He graduated from RFA and also earned a degree in Cyber Security. Frank worked for Rite Aid Warehouse for thirty-five years. He was currently employed at Midstate Communication as a Warehouse Supervisor. Frank was an avid photographer and won several awards over the years from Rome's Canal Fest.
Surviving besides his mother, Frances Madonia Salvaggio, are a sister, Marie (Sissy) Clay of Rome and Virginia Beach, VA, a niece he adored, Laurie Clay, Virginia Beach, VA, several aunts, nieces, nephews and cousins. He was predeceased by his father Vito. Frank leaves behind his cherished cat Midnight.
A Mass of Christian Burial will be celebrated on Thursday, August 10, 2017 at 11:00 a.m. at St. John the Baptist Church with the Rev. Paul F. Angelicchio officiating. Burial will be in St. John the Baptist Cemetery. Friends may call at the Nicholas J. Bush Funeral Home, Inc., 7751 Merrick Rd., on Wednesday from 5-7 p.m.
In lieu of flowers donations may be made to the family.
To offer online condolences, please visit www.njbushfuneralhome.com