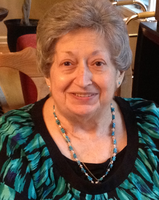 Mary J. (Paniccia) Cidzik
Mary J. Cidzik, age 86, of Rome and most recently Sitrin Long Term Care, New Hartford, passed away peacefully at St. Elizabeth's Hospital on Tuesday, August 22, 2017.
Mary was born on December 6, 1930, in Rome NY, a daughter of the late Dominick and Carmella Mattacola Paniccia who emigrated to the United States from Italy in 1928. Mary graduated from Rome Free Academy in 1950. She was united in marriage on August 25, 1951, to the late Chester S. Cidzik in St. John the Baptist church and was of Christian faith. Mary retired from the Rome Developmental Center in 1990. Mary enjoyed playing sports during her younger years and was an avid fan of baseball, football and basketball rooting on her NY Yankees & Syracuse University. She also loved to cook all the great Italian and Polish dishes for her family.
The family would like to thank the staff of Sitrin Long Term Care especially Magnolia House, for their loving care and friendship towards our mother. The daily interactions with staff, especially Kim, Nicole, and Sharon made her feel at home.
Surviving are two sons and daughters-in-law David and Jean Cidzik, Whitesboro; Alan and Jan Cidzik, Rome; a daughter and son-in-law, Tina and James Brault, Minnesota; seven grandchildren, Aaron (Rose) Cidzik, Adam Cidzik, Kara Cidzik, Ryan (Amiee) Cidzik, Lauren Cidzik, Alanna Brault and Kaley Brault; four great grandchildren, Ethan, Ella, Steele and Sibley, and several nieces and nephews. She was predeceased by her husband, Chester, two brothers and sisters-in-law, Charlie and Flora Paniccia and Sal and Violet Paniccia.
Funeral Services will be held at the Nicholas J. Bush Funeral Home Inc., 7751 Merrick Road, Rome at 12:00 p.m. on Saturday, August 26, 2017. Interment will be in St. John the Baptist Cemetery. Friends may call at the funeral home on Saturday from 10:00 a.m.-12:00 pm.
In lieu of flowers, please consider memorial contributions to the American Heart Association, 120 Lomond Court, Utica, NY 13502. Envelopes will be provided at the funeral home.
To offer online condolences, please visit www.njbushfuneralhome.com