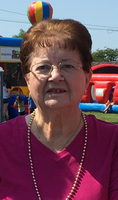 Delores "Dee" R. Sherman
Delores "Dee" R. Sherman
Delores "Dee" R. Sherman, 86, of Rome passed away on Saturday, August 19, 2017. She was born in Rome, N.Y., on February 11, 1931, daughter of the late Joseph and Elizabeth Assissi Natalie. On September 24, 1949, she married Gordon F. Sherman, Sr. He passed away March 13, 2008. Mrs. Sherman was a former employee of Montgomery Ward, J. C. Penny Co., and the Boston Store. She was a member of St. John the Baptist Church.
Surviving are a son, Dr. Gordon F. Sherman, Jr., Princeton, N.J.; two beloved granddaughters Laura Short, Seattle, Washington, and Emily Withers, Bordentown, N.J., a sister-in-law, Mary Natalie, of Rome and several nieces and nephews. She was predeceased by her husband, Gordon, a daughter-in-law, Nancee Sherman, a sister, Rose Cullop, and two brothers, Joseph Natalie and Carmen Natalie.
Services will be private. There are no calling hours. Arrangements are by the Nicholas J. Bush Funeral Home, Inc., 7751 Merrick Rd.
To offer online condolences, please visit www.njbushfuneralhome.com