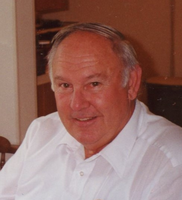 Lanny R. Dixon
Lanny R. Dixon, 83, of Rome, passed away on Wednesday, August 23, 2017 at Faxton-St. Luke's Healthcare, New Hartford. He was born in Richmond, IN, on June 5, 1934, son of the late Robert and Ruby Dixon. On May 5 1956, he married, Jean Ellis in Coldstream, New Brunswick, Canada. She passed away, June 25, 2012. Lanny proudly served in the United States Air Force and retired from Griffiss Air Forces Base as a Master Sergeant after twenty three years of service. He was also a former employee of Birnie Bus Company, where he was a driver for over twenty years. Lanny loved his children and grandchildren and enjoyed sharing his time with them.
Surviving are a daughter and son-in-law, Judy and Lawrence Cania, Rome, grandchildren; Lynn and her husband Lenny Bacon, MO, Jean and her husband, Craig Yocum, Barneveld, Thomas and his wife, Stephanie Carr, Rome, great grandchildren; James, Adam, Jordan, Nicholas, Isabella, Caleb, Sophia, Grace, Madilyn and Charlotte, a daughter-in-law, Gladys Dixon, MO, a sister and brother-in-law, Eris and Don McNally, FL and several nieces and nephews. He was predeceased by his wife, Jean, a son, David Dixon and a sister, Elaine.
The family would like to express a special thank you to St. Luke's Home and St. Luke's Hospital ICU for their care and compassion shown to Lanny.
Funeral Services will be held on Tuesday, August 29, 2017 at 11:00 a.m., at the Nicholas J. Bush Funeral Home, Inc., 7751 Merrick Rd. Burial will be in Evergreen Cemetery. Friends may call at the funeral home on Tuesday from 10-11 a.m.
To offer online condolences, please visit www.njbushfuneralhome.com