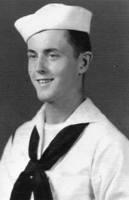 Donald H. Barber
Donald H. Barber, 93, of Rome, passed away Tuesday, August 29, 2017, at Bethany Gardens. He was born in Glens Falls, NY, on April 19, 1924, son of the late Ralph and Margaret Stevenson Barber. Don served in the U.S. Navy during World War II. On July 14, 1946, he married Thelma Coluccio, in First United Methodist Church, Rome, a union of seventy-one years. Don was employed for thirty-eight years with Niagara Mohawk as a serviceman. He was a member of First United Methodist Church and Rome VFW. Don was an avid bowler and was inducted into the Bowling Hall of Fame in 2004. He enjoyed golfing with his brothers-in-laws; Edward, Robert, Hebert and Bruce Coluccio.
Surviving besides his wife Thelma, are two daughters and a son-in-law; Donna and Bruce Loomis, Baldwinsville, NY, Patricia Barber and her partner, Kaytlin Stead, Fletcher, NC, four grandsons, two great grandsons and two great granddaughters. Also surviving, are two sisters; Eunice Puccio, Rome, and Ellen Scarsi, Troy, NY, many nieces and nephews including a special niece, Lynne Gaglianese, Canastota, NY. He was predeceased by a son, D. Bruce Barber, a sister, Betty Rinaldo, and two brothers; Ralph Barber, Jr., and Merritt Barber.
Funeral Services will be held on Friday, September 1, 2017, at 11:00 a.m. at First United Methodist Church, 400 N. George St., Rome. Burial will be in St. Peter's Cemetery. Friends may call at the Nicholas J. Bush Funeral Home, Inc., 7751 Merrick Rd., Rome, on Thursday from 5-7 p.m.
In Lieu of flowers, memorial contributions may be made to: Salvation Army, 410 W. Dominick St. Rome, NY 13440 or Rome Rescue Mission, 411 E. Dominick St., Rome, NY 13440.
To offer online condolences, please visit www.njbushfuneralhome.com