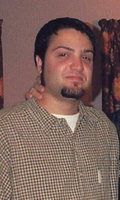 Brian P. Pomento
Brian P. Pomento, 39, of Rome, passed away on Monday, August 28, 2017, at home. He was born in Rome, NY, on September 19, 1977, son of Patrick and Elaine Recchio Pomento. Brian attended Rome Schools. He was a member of St. John the Baptist Church.
Surviving besides his father, Pat, are a sister, Tara L. Pomento, a brother, Derek A. Pomento, both of Rome, a niece, Mena Brazinski, nephews; Cole and Carter Brazinski, a special uncle, Mark Recchio, and uncles, Richard Recchio, and Michael Recchio , all of Rome, and several cousins. He was predeceased by his mother, Elaine, paternal grandparents, Ottilio (Keats) and Rose (Honey) Pomento, and maternal grandparents, Michael and Angela Recchio.
A Mass of Christian Burial will be celebrated on Saturday, September 2, 2017, at 11:00 a.m., at St. John the Baptist Church with the Rev. Paul F. Angelicchio officiating. The family will receive friends at church from 10:00-11:00 a.m. prior to the Mass. Burial will be in St. John the Baptist Cemetery. There are no calling hours.
"A troubled young man is still someone's son, brother, nephew and friend. I will mourn for you until the day I die. Hopefully, mom will be there now to look after you. Love, Dad"
Arrangements are by the Nicholas J. Bush Funeral Home, Inc., 7751 Merrick Rd.
To offer online condolences, please visit www.njbushfuneralhome.com