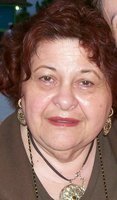 Camille L. Vercelloni
Camille L. Vercelloni, 72, of Rome, passed away on Thursday, September 28, 2017, at Upstate Medical University, Syracuse, after a brief illness.
Camille was born in Rome, New York, the daughter of the late Carmela L. Stewart and Frank Vercelloni. After graduating from Rome Free Academy in 1963, Camille majored in education at SUNY Geneseo. In 1969, she and her sister, Donna, fulfilled a lifelong dream when they moved to New York City. Camille's first job was in the research library at The Conference Board, a global organization that provides organizations with the practical knowledge they need to improve their performance and better serve society. Camille then moved to the position of Manager in the money transfer department at JP Morgan Guaranty Trust. She loved the friends she made and the life she lived in New York City, and it is the place where she gave birth to her daughter, Franca.
When she moved back to Rome, Camille worked in the library on the Rome campus of MVCC. An artful chef and baker, Camille studied food prep at MVCC and often sold her creations or entertained friends and family in Rome and New York City.
She was artistic and creative in so many ways, and she spent much of the 1990s supporting her daughter's interest in theatre by volunteering in the costume shop for Summerstage and volunteering backstage for Rising Stars Workshop productions at the Capitol Theatre. Camille loved music and the arts and was generous with her love and encouragement of those pursuing careers in those fields, especially her daughter.
Camille is survived by her daughter, Franca Vercelloni, New York, NY; her sister, Donna Vercelloni, Rome, NY; and many beautiful cousins and friends.
Camille's family is grateful for the excellent care she received from the nurses and staff in the MICU, Neuroscience and Rehab Units at Upstate Medical University in Syracuse, St. Luke's Acute Rehab and Faxton Hospital in Utica, and VNA Health Care.
A funeral Mass will be celebrated on Thursday, October 5, 2017, at 11:00 a.m. at St. John the Baptist Church with the Rev. Paul F. Angelicchio officiating. The family will receive friends at church from 10:00 a.m. – 11:00 a.m., prior to the Funeral Mass. There are no calling hours.
In lieu of flowers, memorial donations may be made to The National Women's Law Center, 11 Dupont Circle, NW, Suite 800, Washington, DC 20036, www.nwlc.org
Arrangements are by the Nicholas J. Bush Funeral Home, Inc., 7751 Merrick Rd.
To offer online condolences, please visit www.njbushfuneralhome.com