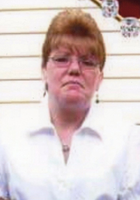 Patricia A. Lindsey
Patricia A. Lindsey, 55, of Taberg, passed away on Monday, October 30, 2017, at Faxton-St. Luke's Healthcare, New Hartford. She was born in Little Falls, NY, on November 29, 1961, daughter of the late Walter and Judy Maloney Cvetezar. Pat was a graduate of Rome Free Academy. She married Paul J. Lindsey, in Utica. Pat was an employee of Walmart Supercenter, Rome.
Surviving besides her husband, Paul, are children; Michael Cvetezar, Taberg, Raymond and Gloria Crandall, Rome, Christina and Robert Nassimos, Taberg, Barbara and James Nestle, Lee Center, Lawrence and Tasha Kimball, Taberg, and many loving grandchildren. Also surviving are a sister, Judy Michalowski, Utica, and several nieces and nephews.
Funeral Services will be held on Thursday, November 2, 2017, at 6:00 p.m., at the Nicholas J. Bush Funeral Home, Inc., 7751 Merrick Rd., Rome. Friends may call at the funeral home on Thursday from 4-6 p.m. Private burial will be in Crown Hill Memorial Park, Kirkland.
To offer online condolences, please visit www.njbushfuneralhome.com.