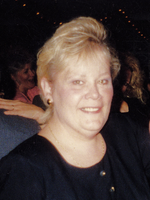 Christine Tyksinski Vergalito
Christine M. Tyksinski Vergalito, 66, of Rome, passed away on Wednesday, November 1, 2017 at St. Elizabeth Medical Center, Utica. She was born in Rome, NY, on December 25, 1950, daughter of Edward and Elizabeth Stevenson Tyksinski. Christine graduated from Rome Free Academy. On September 15, 1973, she married John J. Vergalito in St. Mary's Church. He passed away September 15, 1996. Christine was an employee of New York State School for the Deaf and was formerly employed at the Franklin Hotel, Sisto's Restaurant, and Dan Dee Donuts. She was a member of St. Mary's/St. Peter's Church. Christine was a big New York Giants fan, enjoyed Turning Stone Casino and Bingo.
Surviving is a son, Michael J. Vergalito, Phoenix, AZ, her mother, Elizabeth "Betty" Tyksinski, Rome, a brother and sister-in-law, Gregory and Linda Tyksinski, Rome, five sisters and three brothers-in-law, Cheryl and Ray Fryc, Utica, Sandra and Gregory Procopio, Rome, Karen Ritz, Naples, FL, Nancy Campanaro, Rome, Debra and Frank Cittadino, Rome. Also surviving are brothers-in law Larry and Toby Vergalito, Rome, sister-in-law Ann and George Kinnaman, Phoenix, AZ, several nieces and nephews, great nieces and nephews and great, great, nieces and nephews. Chris had many close friends and associates especially Brenda Pabis, her best friend and support system. Christine was Loved by many and will be Dearly Missed. She was predeceased by her husband, John, father, Edward, a sister, Diane, mother-in-law and father-in-law Anntonette and John Vergalito, brothers-in-law, John Ritz and Joey Vergalito.
A Memorial Mass will be celebrated on Saturday, November 4, 2017 at 9:30 a.m., at St. Peter's Church, with the Rev. Philip Hearn officiating. The Family will receive friends at the conclusion of Mass. There are no calling hours. Burial will be in St. Mary's Cemetery at a later date.
Arrangements are by the Nicholas J. Bush Funeral Home, Inc., 7751 Merrick Rd.
To offer online condolences, please visit www.njbushfuneralhome.com