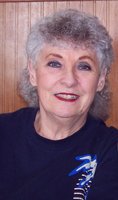 Evelyn M. Mesagna
Evelyn M. Mesagna, 82, of Rome and Sylvan Beach, NY, passed away on Monday, November 20, 2017, at Oneida Healthcare Center surrounded by her beloved family. She was born in Lyons Falls, NY, on April 16, 1935, daughter of the late Harold and Rena Capron Yauger. Evelyn graduated from Boonville Central School and Utica School of Commerce. On August 23, 1958, she married Rocco A. Mesagna, Sr., in Rome NY. She was a member of St. John the Baptist Church, Rome, Sylvan Beach American Legion Women's Auxiliary and Ukrainian American Club, Rome.
Surviving besides her husband Rocco Sr., is a son and daughter-in-law, Rocco Jr., and Tami (Mead) Mesagna, Verona, a daughter and son-in-law, Debra and John P. Martin, Verona, four grandchildren; Jason and his wife, Maria (Johnson) Mesagna, Rome, Rachel and her husband Moises Cruz, Seoul, S. Korea, Greg Mesagna, and his fiancé, Katie O'Neil, Madison, NY and Dominic Mesagna, Rome. Also surviving are two sisters-in-law; Janice Yauger, Boonville, and Linda Mesagna, Utica, a brother-in-law, Pat Mesagna, Rome and several nieces and her beloved cat, Taz. She was predeceased by a brother, Edward Yauger and sisters-in-law and brothers-in-law.
The family would like to express a special thank you to Oneida Healthcare Center, ER and ICU units for the care and compassion shown to Evelyn.
Funeral Services will be held on Saturday, November 25, 2017, at 9:00 a.m., at the Nicholas J. Bush Funeral Home, Inc., 7751 Merrick Rd., Rome, with the Rev. Paul F. Angelicchio officiating. Burial will be in St. John the Baptist Cemetery. Friends may call at the funeral home on Friday, November 24, 2017, from 4-7 p.m.
Memorial contributions may be made in Evelyn's memory to: Humane Society of Rome, Inc., P.O. Box 4572, Rome, NY 13442-4572
To offer online condolences, please visit www.njbushfuneralhome.com