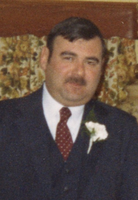 Gabriel D. Garofalo
Gabriel D. Garofalo, 76, of Rome, passed away on Thursday, December 7, 2017, at Rome Memorial Hospital, with his wife Chris "the love of his life" by his side. They were married on December 12, 1981, and would have been celebrating their thirty-sixth wedding anniversary. Gabe was born in Rome, NY, on February 4, 1941, son of the late Gabriel and Anita DiDone Garofalo. He graduated from Rome Free Academy. On December 12, 1981 he married Christine Adams in St. John's Lutheran Church. Gabe was a Financial Consultant with Tucker Anthony Investment Co. He was a member of St. John the Baptist Church.
Gabe was a kind and gentle man who was always very devoted to his family.
Surviving besides his wife Chris, is a son, Jim Garofalo, Rochester, NY, two brothers and a sister-in-law; Ralph and Mary Ann Garofalo, Vincent Garofalo all of Rochester, NY. Also surviving are a brother-in-law and sister-in-law, Richard and Barbara Adams, Remsen, and several nieces and nephews.
A Mass of Christian Burial will be celebrated on Monday, December 11, 2017, at 10:30 a.m., at St. John the Baptist Church with the Rev. Abe Esper officiating. The family will receive friends at church from 9:30 a.m. - 10:30 a.m. prior to the Mass. Burial will be in St. John the Baptist Cemetery. There are no calling hours.
In lieu of flowers, memorial contributions may be made in Gabe's memory to the COPD Foundation, 3300 Ponce De Leon Blvd., Miami, FL 33134 or call 866-731-2673
Arrangements are by the Nicholas J. Bush Funeral Home, Inc., 7751 Merrick Rd.
To offer online condolences, please visit www.njbushfuneralhome.com