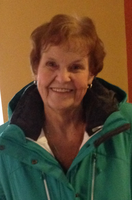 Nancy L. Guy
Nancy L. Guy, 75, of Rome, passed away on Friday, December 15, 2017, at St. Elizabeth Medical Center, Utica. She was born in Utica, NY, on July 20, 1942, daughter of the late Russell and Esther Woodworth Geary. Nancy was a graduate of Westmoreland Central School and Mohawk Valley Community College. She married Howard W. Guy who passed away on September 24, 2002. Nancy retired from Bank of New York, Oriskany, NY. She was a member of St. Mary's / St. Peter's Church. Nancy enjoyed spending time with her children and grandchildren, making sure she was always there for them.
Surviving are three sons and a daughter-in-law; Craig and Domenica Guy, East Greenbush, NY, Michael Guy , Camp Hill, PA, and Dennis Guy, Rome, two daughters and sons-in-law; Marcie and Richard Floyd, Harrisburg, PA, Denise and Peter Dawes II, Sauquoit, six beloved grandchildren; Alyssa, Brett, Nicholas, Daniel, Andrew and Samantha and several nieces and nephews. She was predeceased by her husband Howard and sister Patricia Geary.
The family would like to express a special thank you to the nursing and rehabilitation staff at Lutheran Home Gordon Unit, Clinton, NY, and a special thank you to the Doctors and nursing staff of St. Elizabeth Hospital. The family would like to especially thank Dr. Graziano, Dr. Lindsey and Dr. Wassal for their long time care and determination.
Funeral Services will be held on Tuesday, December 19, 2017, at 7:00 p.m., at the Nicholas J. Bush Funeral Home, Inc., 7751 Merrick Rd., Rome. Friends may call at the funeral home on Tuesday from 5-7 p.m.
To offer online condolences, please visit www.njbushfuneralhome.com