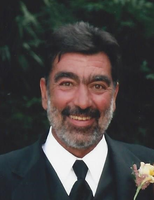 Anthony "Dutch" F. Ceravolo
Anthony "Dutch" F. Ceravolo, 64, formerly of Rome, passed away suddenly on, Tuesday, February 13, 2018, in Pueblo, Colorado. He was born in Rome, New York, on May 9, 1953, son of Joseph and Louise Capponi Ceravolo. He was a member of St. John the Baptist Church. Anthony attended Rome Free Academy, where he was active in weightlifting and track. While at RFA he was captain of the varsity football team and lacrosse team. He graduated from RFA in 1972 and continued on to attend Norwich University, where one of his college highlights was playing rugby in England. He moved west in the late 70's where he prospered as a heavy equipment operator. Anthony loved the Rocky Mountains, living in Alma, Colorado and Columbia Falls, Montana. He spent the last few years in Falcon, Colorado, with his loving family, doing what he loved the most: hunting, fishing, camping and the outdoors. Anthony loved animals, always had a song in his heart and enjoyed cooking and gardening. A man with an outgoing personality, he was loved by all.
He is survived by his mother, Louise Ceravolo, Rome, daughters; Christine Ceravolo, Belinda (Ceravolo) Bebo and her husband, John, and grandchildren Dominick and Angelina Richardson, his daughter, Victoria Ceravolo, a son, Joseph A. Cervolo and granddaughters, Maria and Layla Cervaolo. Also surviving, are a niece, Marisa Frey and her husband, Chad, a nephew Tommy Cunningham and his wife Kelly, as well as many beloved cousins and friends, one in particular, Mike Mastracco. He was predeceased by his father, Joseph Ceravolo and a sister, Carol (Ceravolo) Cunningham.
Anthony's final resting place will be in Alma, Colorado, where he was known as "The Alma Fox".
A Memorial Mass will be held on Wednesday, May 9, 2018, at 11:00 a.m., at St. John the Baptist Church Rome, New York, where relatives and friends are invited to attend.
Arrangements are by the Nicholas J. Bush Funeral Home, Inc., 7751 Merrick Rd., Rome, New York
To offer online condolences, please visit www.njbushfuneralhome.com