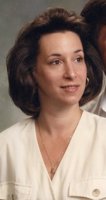 Karen M. Urbanik Markowicz
Karen M. Urbanik Markowicz, 65, of Rome, passed away on Monday, March 19, 2018, at Rome Memorial Hospital. She was born in Rome, NY, on July 11, 1952, daughter of the late Stanley A. and Patricia M. Fazio Urbanik. Karen was a graduate of Rome Free Academy. She retired from Rome DDSO, where she was employed for several years. Karen was a former member of Transfiguration Church. She loved needlepoint, ceramics, and teddy bears.
Surviving are a son and daughter-in-law, Andrew and Laurie Sega, Rockville Centre, NY, a daughter, Teri Sega and her fiance, Robert Dean, Chicago, IL, a granddaughter, Amelia Ann. Also surviving are a brother and sister-in-law, Bryan and MaryAnn Urbanik, Rome, a sister and brother-in-law, Ellen and David Olney, Westernville, and several nieces and nephews.
The family would like to express their heartfelt gratitude to the staff at Barton Place and Rome Memorial Hospital.
Friends may call at the Nicholas J. Bush Funeral Home, Inc., 7751 Merrick Rd., on Thursday, March 22, 2018, from 5-7 p.m. Funeral Services will be private. Burial will be in Holy Trinity Cemetery, Yorkville.
In lieu of flowers memorial contributions may be made to: Humane Society of Rome, Inc., P.O. Box 4572, Rome, NY 13442 or a charity of one's choice.
To offer online condolences, please visit www.njbushfuneralhome.com