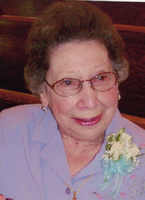 Annette "Nettie" P. Volpe
Annette "Nettie" P. Volpe, 103, of Rome, passed away on Wednesday, March 21, 2018 at Colonial Park Rehabilitation and Nursing Center. She was born in Little Falls, NY, on June 15, 1914, daughter of the late Anthony and Mary Cardillo DiNitto. On September 4, 1949 she married Egidio "Jiggs" Volpe, in St. Joseph's Church, Little Falls, NY. He passed away January 24, 1994. Nettie retired from the Rome City School District where she was employed in the cafeteria. She was a member of St. John the Baptist Church.
Surviving are a son and daughter-in-law, Joseph A. and Sharon Volpe, Clay, grandchildren; Michele Volpe, Joseph F. Volpe and his wife Stacie, Christopher Volpe and his wife Alicia, great grandchildren; Teagan Volpe, Anthony Volpe, Michael Volpe and Julianna Volpe.
Also surviving are a sister; Dena Collis, Little Falls, a brother-in-law, Roger Ringlund and several nieces and nephews and great nieces and great nephews. She was predeceased by her husband "Jiggs", a brother, Christopher DiNitto, three sisters; Lucy Verri, Mary Federico, and Connie Casullo, sisters-in-law and brothers-in-law; Bambina "Bam"and Joseph Schillaci, Filomena Vito and Mary Ringlund.
A Mass of Christian Burial will be celebrated on Saturday, March 24, 2018 at 10:30 a.m., at St. John the Baptist Church with the Rev. Paul F. Angelicchio officiating. Burial will be in St. John the Baptist Cemetery. Friends may call at the Nicholas J. Bush Funeral Home, Inc., 7751 Merrick Rd., on Friday, March 23, 2018, from 4-7 p.m.
To offer online condolences, please visit www.njbushfuneralhome.com