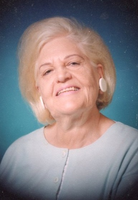 Rose M. Tardabone
Rose M. Tardabone, 95, of Rome, passed away on Thursday, March 22, 2018, at Rome Memorial Hospital. She was born in Rome, NY, on September 23, 1922, daughter of the late Larry and Rose Varano Tardabone. Rose attended Rome schools. She retired from Rome Hospital after 38 years of employment. Rose was a member of St. John the Baptist Church.
Rose was known for her sense of humor and her love for cats. She had a love for music, especially Engelbert Humperdinck.
Surviving are her special cousins and caretakers, Roger and Betty Sabia and family, all of Rome, along with many dear friends and neighbors. She was predeceased by her parents, a brother, Joseph C. Tardabone and a sister, Mary Tardabone.
The family would like to express a special thank you to the staff at Rome Memorial Hospital, second floor east, for their excellent care and compassion. They would also like to thank the staff at Bethany Gardens, second floor and rehab, for the care they provided Rose.
Funeral services will be held on Saturday, March 24, 2018, at 2:00 p.m., at the Nicholas J. Bush Funeral Home, Inc., 7751 Merrick Rd. Friends may call at the funeral home from 1:00 -2:00 p.m., prior to the service. Burial will be in St. John the Baptist Cemetery.
Memorial contributions may be made to the Rome Humane Society, P.O. Box 4572, Rome, NY 13442.
To offer online condolences, please visit: www.njbushfuneralhome.com