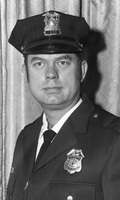 Gerald K. Lince
Gerald K. Lince, 81, of Lee Center, passed away suddenly, on Monday, March 26, 2018, at home. He was born in Rome, NY, November 18, 1936, son of the late George W. and Frieda Indermill Lince. Gerry graduated from VVS High School and attended Syracuse University. On July 5, 1958 he married Marianne Santoro in St. John the Baptist Church. She passed away on October 15, 2001. He retired in 1985 from the Rome Police Department. Gerry was owner and operator of GK Lince Security Installations, which he founded in 1979. On September 16, 2005 he married Nancy Preston in St. John the Baptist Church.
Gerry was a member of St. John the Baptist Church. He was an honorary life member of the Rome Elks Club, where he was a member for over fifty years. Gerry was also a member of the Ukrainian Club and Rome VFW.
Surviving besides his wife Nancy, is a daughter and son-in-law, Deborah and Steven Milotte, Rome, a stepdaughter, Paula Kelly, Elmira, and many step-grandchildren, several nieces and nephews, including a special nephew, Timothy. He was predeceased by two beloved baby sons; Gerald K. Lince II and Gary K. Lince, and a brother, George Lince.
A Mass of Christian Burial will be celebrated on Wednesday, March 28, 2018, at 11:00 a.m., at St. John the Baptist Church, 210 E. Dominick St., Rome. The family will receive friends at church from 10:00 a.m. – 11:00 a.m., prior to the Funeral Mass. Private burial will be in St. John the Baptist Cemetery. There are no calling hours.
To offer online condolences, please visit www.njbushfuneralhome.com