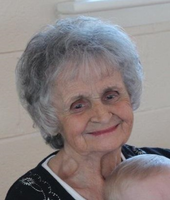 Anita L. Zakala
Anita L. Zakala, 82, of Rome, passed away peacefully on Wednesday, April 11, 2018. She was born in Rome, NY, on October 8,1935, the daughter of the late Joseph and Margaret Page Mastrangelo. On May 11,1957, she was united in marriage to Peter P. Zakala, also of Rome.
Anita was a graduate of Rome Free Academy, Class of 1955. Following high school, she gained employment at the Strand Theater and later as a telephone operator at the New York Telephone Company. Following the birth of her first child, Paula, she "retired" from work to be a housewife and stay-at-home Mom.
Anita was a devoted wife, mother, and grandmother. She had a very generous heart and truly enjoyed spending time with her loved ones. Anita especially loved spending quality time with her grandchildren and great grandchildren. The happiness that the children brought her was like no other. She adored all of them.
Anita is survived by a daughter, Paula (Larry) DeFrees; two sons, Mark Zakala, David (Allison) Zakala, and a very special family friend, John Prendergast, who was like a third son to Anita; 8 grandchildren, Heather DeFrees and Rob Sharpe, Angel Rotach, Amber (Shaun) Lewis, April Zakala, Brianna and Ava Zakala, and Brianna and Samantha Prendergast; four great grandchildren, Matthew and Olivia Sharpe, Alessondra Rotach, and Hunter Lewis; and a special sister in law, Sharon Mastrangelo. Anita was predeceased by her husband, Peter Zakala; her parents, Joseph and Margaret Mastrangelo; and a brother, Anthony Mastrangelo.
Family and friends are invited to call at the Nicholas J. Bush Funeral Home, Inc., 7751 Merrick Rd., on Friday, April 13, 2018, from 4 – 7 p.m. A prayer service will immediately follow for those wishing to attend.
To offer online condolences, please visit www.njbushfuneralhome.com