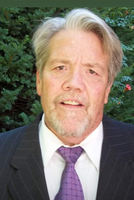 Jon Robert Garlinghouse
It is with much sadness that we inform you of the death of Jon Robert Garlinghouse, 64, of Rome. Jon was a kind man with a gentle soul. He would light up a room with his smile and made the people he met feel special. Jon was born in Syracuse, NY, on August 12, 1957. He graduated from Rome Free Academy, SUNY Tech and The Massachusetts School of Law. Jon was admitted to the Massachusetts Bar in 1993. His law firm was a general law practice in Medford, MA. In 2004, Jon was married to the former Jo Dawn Lambert.
He is survived by his three children; Kelly Garlinghouse and Matthew Garlinghouse both of Rome, and Madison Garlinghouse, of FL., a grandson, Edward (E J) J. Chentnik IV, of Rome, his mother, Jean Garlinghouse, Utica, a sister, Beth Shelton, NC, two aunts and an uncle; Elaine Kowalsky, Utica, and Ann and Robert Nicholson, Rome, several cousins and a special friend, Maureen White, MA. He was predeceased by his wife, Jo Dawn, and his father, Robert. Jon leaves his canine companion, Bella, who was his best friend.
A Mass of Christian Burial will be celebrated on Wednesday, June 8, 2022, at 11:00 a.m., at St. John the Baptist Church, Rome, with the Rev. Paul F. Angelicchio officiating. The family will receive friends following Mass. There are no calling hours.
Memorial contributions may be made in Jon's name to: American Diabetes Association, P.O. Box 7023, Merrifield, VA 22116-7023 or online at: www.diabetes.org or a charity of one's choice.
Arrangements are by the Nicholas J. Bush funeral Home, Inc., 7751 Merrick Rd., Rome.
To offer online condolences, please visit: www.njbushfuneralhome.com