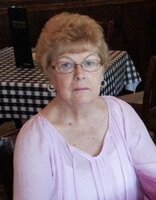 Mary J. Guy Pereto
Mary J. (Guy) Pereto, 1935-2022
Mary J. (Guy) Pereto, 86, of Rome, passed away on Wednesday, July 6, 2022 at Bethany Gardens with her family by her side. She was born in Rome, NY, on August 15, 1935, a daughter of the late Richard and Mildred (Keller) Guy. Mary was raised and educated in Rome, where she attended Saint Aloysius Academy and Rome Free Academy. On October 23, 1965 she married Roger S. Pereto, the couple shared in a union that was blessed with more than fifty-five years of marriage, prior to Mr. Pereto's passing on November 21, 2020. Mary was employed at Loblaws and Great American Grocery Stores in Rome. She loved crossword puzzles, cooking, going to the casino, and most of all spending time with her family.
Surviving are a daughter and son-in-law, Jeanne and Lawrence Natale of Rome; grandchildren. Tiffany and Charles Risley of Canastota, and Brandon Natale of Rome; two great-grandchildren, Joseph Titus and Skyler Lanz; a sister, Margaret "Margie" Schellhaas of Rome, and many nieces, nephews, great nieces, great nephews, and cousins. She was preceded in death by her son Robert P. Pereto; a sister, and brother-in-law, Elizabeth "Betty" and Donald Schuler; three brothers and sisters-in-law, Richard J. and Barbara Guy, James D. and Joan Guy, and Howard W. and Nancy Guy; and many members of her husband, Roger's family with whom she shared a close bond.
A Mass of Christian Burial will be celebrated on Wednesday, July 13, 2022 at 11:00 a.m. at St. Peter's Roman Catholic Church, 200 N. James Street, Rome, NY. The family will receive visitors in church at the conclusion of services. Burial will follow in St. Peter's Cemetery in Rome. There will be no calling hours.
Arrangements are by Nicholas J. Bush Funeral Home, Inc., 7751 Merrick Road, Rome, NY. Memorial contributions in Mary's name may be made to: Bethany Gardens Activity Fund, 800 W. Chestnut St., Rome, NY 13440
To offer online condolences, please visit www.njbushfuneralhome.com.