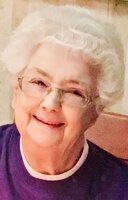 Catherine "Katy" Cacciatori
Catherine "Katy" Cacciatori
Catherine "Katy" Cacciatori, 93, of Rome, passed away on Monday, September 26, 2022, at MVHS St. Luke's Healthcare in New Hartford, NY. She was born in Rome, NY, on February 17, 1929, daughter of the late Carlo and Rose Doria Vescio. On August 12, 1946 she married Enzo Cacciatori in St. John the Baptist Church and enjoyed sharing sixty-six years together. Katy now joins her husband, Enzo who passed away January 10, 2012.
Katy worked at the Plaza Restaurant for several years. She was a member of St. John the Baptist Church and South Rome Senior Citizens Center where she loved playing bingo. Katy was talented at knitting and crocheting, crafting many beautiful pieces throughout her life. Sunday's were always filled with Katy's delicious meatballs and pasta for her family to gather and enjoy. She always had a full coffee pot to welcome any guests to her home. Above all she was a devoted mother to all of her children, especially John, and all of her grandchildren. Katy extended her love and care to many of her family and friends.
Surviving are three sons: Wayne (Carla) Cacciatori, Rome, Enzo (April) Cacciatori, Rome and John Cacciatori, who Enzo and Katy dedicated their lives to care for, two daughters: Dianne Maziarz, Denver and Donna (Paul) Mills, Maplewood, NJ, six grandchildren: Richard Maziarz, Amy Maziarz, Jenna (Warren) Frame, Jessica (Khristian) Ballesteros, Kelsey (Paul) Hillson and Andrew Mills, five great-grandchildren: Stella and Jonah Maziarz, Hannah and Ava Frame and Oliver Ballesteros. Also surviving is a sister and brother-in-law, Patricia (David) Hemmes, and several nieces and nephews. She was predeceased by her husband, Enzo, a brother, Peter Vescio, sisters: Johanna Carriero, Grace Grago, Bertha Sellnow, Dolores Aiello, Nicolina Limner.
A Mass of Christian Burial will be held on Saturday, October 1, 2022, at 11:00 a.m.,
at St. John the Baptist Church, with the Rev. Robert Kelly officiating. Burial will be in St. John the Baptist Cemetery. Friends may call at the Nicholas J. Bush Funeral
Home, Inc., 7751 Merrick Rd., on Friday from 4-7 p.m.
Memorial contributions may be made in Catherine's name to: South Rome Senior Citizen Center, 112 Ridge St., Rome, NY 13440
To offer online condolences, please visit www.nibushfuneralhome.com