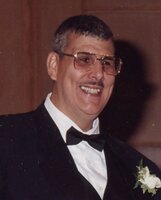 Salvatore J. Carriero
Salvatore J. Carriero
Salvatore J. Carriero, 76, of Rome, passed away on Wednesday, September 28, 2022, with his loving family by his side, at Rome Health. He was born in Rome, NY, on October 4, 1945, son of the late John and Bertha Doria Carriero. Sal was a graduate of Rome Free Academy the Class of 1965. On June 3, 1972 he married the love of his life, Johanna Derby, in St. John the Baptist Church, a union of fifty years. Sal retired in 2007 after twenty-two years with New York State at Central New York Psych Center, Office of General Services and was a former employee of Rome Developmental Center, Rome City School District, Rome Tourney and Grandway Department Store.
Salvatore was a member of St. John the Baptist Church, South Rome Senior Citizens Center, Ava Dorfman's Seniors and was very active with Relay for Life with Nettie's Guys and Gals Team. He was also an avid Bingo player. Sal also spent a lot of his free time in the garden that he enjoyed.
Surviving besides his wife, Johanna, are a daughter, Maria Spencer (Jim Mariani), Camillus, and three grandchildren; Luke, Landon, and Amanda Rose. Also surviving are two sisters; Rosemary (Jon) Valente, Rome, Mary (Bill) Halpin, Rome, and several nieces, nephews and cousins. Sal is also survived by two great-aunts; Antoinette and Lucia Carriero of Rome.
The family wishes to express a special thank you to the ICU doctors and nurses of Rome Health for their care and compassion shown to Sal and his family.
A Mass of Christian Burial will be held on Tuesday, October 4, 2022 at 1:00 p.m., at St. John the Baptist Church, with the Rev. Paul F. Angelicchio officiating. Burial will be in St. John the Baptist Cemetery. Friends may call at the Nicholas J. Bush Funeral Home, Inc., 7751 Merrick Rd., on Monday, October 3, 2022 from 4-7 p.m.
Memorial contributions may be made in Sal's name to: South Rome Senior Citizen Center, 112 Ridge St., Rome, NY 13440
To offer online condolences, please visit www.njbushfuneralhome.com