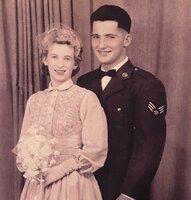 Martin G. Tracy Sr.
Martin G. Tracy, Sr., 84, of Rome, passed away on Sunday October 30, 2022, at Albany Medical Center, Albany, NY. He was born in Knoxboro, NY on November 3, 1937, son of the late Orville and May Shumaker Tracy. On December 21, 1956, he married Eileen Horwood. She passed away on April 20. 2018. Martin served in the United States Air Force from 1954-1964. Marty was employed by Omega Wire Co. as a machine operator.
Surviving are two sons, Stephen Tracy and Martin Tracy Jr; both of Rome, three daughters, Pauline Tracy, Joann Tracy, and Mary Jane Tracy, all of Rome, and many grandchildren and great-grandchildren. Martin was predeceased by his brothers and sisters.
In keeping with Marty's wishes, there will be no public visitation or services.
Arrangements are under the direction of the Nicholas J. Bush Funeral Home, Inc., 7751 Merrick Rd, Rome, NY 13440.
To offer online condolences, please visit www.njbushfuneralhome.com.