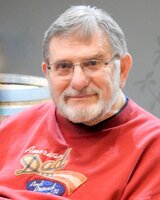 Vaughn L. Christman, Sr.
Vaughn L. Christman, Sr., 85, of the Town of Lee, passed away on Friday, November 4, 2022 at Bethany Gardens. He was born in Rome, NY, on September 20, 1937, son of the late George Lee Roy and Eletha Hurlbut McLaughlin.
Vaughn was a graduate of Rome Free Academy Class of 1956. He played football at RFA and was on the swim team recognized as a top Section III diver. Vaughn also played the trumpet in the RFA high school band. After high school he played semi-pro football (Tight End) with the Frankfort Falcons and the Utica- Rome Chiefs. After high school Vaughn traveled with a professional trampoline act for several weeks entertaining local schools. He was also an avid softball player. Vaughn served with the U.S. Army 101st Airborne Division "Screaming Eagles" from 1961-1963, where he received the Parachutist Badge and Expert Rifle Badge. He retired as a Journeyman Electrician from IBEW Local 43, and was a True Blue member of the original IBEW Local 181 Utica, NY. Vaughn was a member of the American Legion Post 1794 for twenty years, Lifetime Member of DAV. Vaughn joined the Taberg Volunteer Fire Department in 1965. His roles included that of Parade Chairman and President. He enjoyed using his military experience to help train with members when marching in local parades. They brought home many trophies for their efforts.
Fridays were always set aside at Vernon Downs for Vaughn and his friends from grade school, lovingly referred to as the "Cronie Club" since their friendship spanned seventy plus years. They met for breakfast, pooled their money to play the machines and then a regular visit to the track. His close friend Geno Gizzi has been steadfast and true like a part of our family which has made for many cherished memories.
Surviving is his wife, Rennae Marshall Christman of 45 years, children, retired USAF-OSI Agent Corey (Jennifer) Christman, Vaughn (Mellonie) Christman, Jr., Jefferey (Kim) Christman, four granddaughters: Mackenzie Alexis Christman, Ireland Rose Christman, Casey Lynn Christman, and Dani Ingalls Perry, three grandsons: Logan Homerick, Bryan Christman and Corey Christman. Also surviving are sisters: Sandra (Les) Howell, Brendalee Christman, Mjrs. Darlene (Ed) Russell, Victoria (Paul) Parent, Julie (Dennis) McElroy, Ha (James) Christman and brothers: Retired Lt. Col. Mark (Jessie) Christman, Edward Christman and George (Diane) Christman and several nieces and nephews. He is predeceased by his father, George Lee Roy Christman, mother, Eletha Hurlbut McLaughlin, and his step-mother, Mary Vitelli Christman, daughters, Chrystal Christman Medlin and Kim Christman, his brother, Jim Christman and a sister-in-law, Judy Christman.
Our entire family wants to extend thanks and appreciation to Dr. Richard Sullivan, Jim O'Rourke, Joe Perrone and the staff both at the VA here in Rome and in Syracuse. Their care, concern and friendship over the years has been a great source of strength to us that I will always cherish. We share a special bond "family". Also, our family would like to acknowledge the staff at Bethany Gardens for their compassionate care for Vaughn. He made many new friends there. The nursing staff and the certified nursing assistants went well beyond our expectations in caring for Vaughn. They truly are a special group of people! We can't thank them enough.
Funeral Services will be held on Thursday, November 10, 2022 at 6:00 p.m., with Military Honors, at the Nicholas J. Bush Funeral Home, Inc., 7751 Merrick Rd., Rome, NY. Visitation will be from 4-6 p.m., prior to the service.
In lieu of flowers memorial contributions may be made to Disabled American Veterans (DAV) or to Bethany Gardens, Rome, NY.
To offer online condolences, please visit www.njbushfuneralhome.com