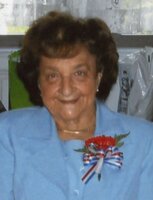 Theresa M. Terri Veazy
Theresa M. Veazy, 94, of Rome, passed away peacefully at home with the love and support of her family by her side and holding her hand until her final journey was over.
Theresa was born in Rome, New York on December 3, 1927, to Peter and Marie Carroll Spohn. She graduated from Rome Free Academy in 1946. In her teenage years she worked at Nora's Candy Shop in Rome. In January of 1953, she was hired as a Property and Supply Clerk in the Base Support Division of ROAMA'S Directorate of Supply and Transportation at Griffiss Air Force Base. In 1962, Theresa received the "Civilian of the Month" Award for outstanding performance of duty and being instrumental in selection in connection with shipments of weapons system items. She also received the "Sustained Superior Performance" Award for being the only department of 38 different Air Force Bases that reflected a negative error factor. Maj. Gen. Root, Commander of ROAMA, cited Theresa for an "outstanding job performance of her and the personnel under her jurisdiction." She retired in 1983, but that didn't mean she stopped working. She was a bartender at the Sportsman's Lounge in Rome, for 22 years. Theresa was also an active member of the Ladies Aux. of the Rome VFW post 2246 for over 20 years, and served as President for many of those years. Theresa was always on the go, but never too busy for her family. She loved having everyone together. She also loved to travel, and spent many of her winter months in her Florida home until she could no longer make the long trip. Everyone who knew Theresa knew she was small but mighty, very independent, with a little mix of stubbornness, and unwavering confidence. Theresa was a woman who many admired and loved. She will always be. Theresa will be missed everyday, but never forgotten...she will live on in us forever.
Theresa is survived by her children, Theodore Crawford, Ronald Crawford both of Cleveland, NY; Carol (Carl) Siegfried of Las Vegas, NV; and Lauri (Dan) Boudreau of Rome, Daryl Crawford of FL; Grandchildren Shawn (Stephanie) Hanrahan of Rome; Brandon Hanrahan of Utica; Theodore Crawford II (Rose Parker) of Rome; Lynn (Justin) Pearson of Marcy; Christopher Boudreau of Rome; Kristin Boudreau (Phil Brockway) of Rome, Timothy (Virginia) Haley of TX; Carl (Whitney) Siegfried of Las Vegas, NV; Melanie Contreras of CA; Joseph Mendoza of Rome, Benji Crawford of CA; 23 Great-Grandchildren, many nieces, nephews, and a special pup, Charlie. Theresa was predeceased by a son, Donald (Punk) Crawford, a daughter, Karen Roscoe, son-in-law, Donald Roscoe, and grandson, Brian Crawford.
A very special thank you to Leah Boek, FNP, and her wonderful crew at Boonville Medical for the wonderful care and compassion given to Theresa and her family during this difficult time. You made her last days peaceful, and her family at ease. Also, a special thank you to Joe S. from Hospice, you have found your calling, you are wonderful at your job. Thank you for your help and support.
Per Theresa's last wishes, there will be no calling hours. Services will be private. Please remember her as she was in your fondest memory of her.
Arrangements are by the Nicholas J. Bush funeral Home, Inc., 7751 Merrick Rd., Rome, NY.
To offer online condolences, please visit www.njbushfuneralhome.com
God saw you getting tired, when a cure was not to be. So He wrapped His arms around you, and whispered, "Come with Me." You didn't deserve what you went through, so He gave you rest. God's garden must be beautiful, for He only takes the best. And when I saw you sleeping, So peaceful and free of pain, I could not wish you back to me, to suffer that again.