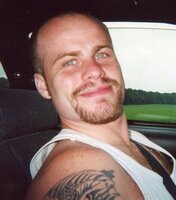 Shannon M. "Mike" Wood
Shannon "Mike" Wood, 48, of Rome, NY, passed away on Tuesday, November 8, 2022. He was born in Elmira, NY, on March 19, 1974, son of Erven Wood and Elizabeth McFall. In his spare time Shannon enjoyed working on machinery, 3D printing and engraving projects. He also loved his 1929 Ford model A and his animals especially "Romi".
Surrviving is his wife, Michelle Biancucci Wood of twenty-two years, four sons: Caleb, Jacob, Michael and Christopher Wood, a daughter, Kaitlin (Jimmy) Steck , Joshua Peck, a grandson, Tripp Steck, three sisters: Brenda , Angie and Amy, his father, Erven (WoodE) Wood. Also surviving are in-laws: Angelo Biancucci, of Rome, Betty (Paul) Schilling, Brianne (Louie) Manna, Kristy (Mike) Smith, of Florida, nieces and nephews Kayla and
Anthony Manna, Brantley and Briella Smith, of Florida and many other nieces, nephews and close friends .Shannon was predeceased by his mother, Elizabeth McFall and a brother, Jimmy Jr.
Memorial contributions may be made to the family for funeral expenses.
Funeral Services will be held on Friday, November 18, 2022 at 11:00 a.m., at the Nicholas J. Bush Funeral Home, Inc., 7751 Merrick Rd., Rome. Family and friends may call at the funeral home from 10:00 -11:00 a.m., prior to the Funeral Service.
To offer online condolences, please visit www.njbushfuneralhome.com