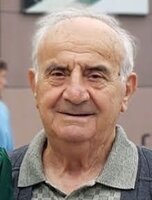 Paul Semo
Paul Semo, 89, of Punta Gorda, Florida and formerly of Rome, NY, passed away peacefully on Wednesday, January 25, 2023. He was born in Rome, N.Y. on September 27, 1933, the youngest of eight children, to the late John and Raffael Semo. Paul graduated from Rome Free Academy. On May 1, 1954, he married the former Amelia (Melly) Castro, a blessed union of 46 years until her passing in 2000.
Paul loved construction and dedicated his work life to all types of building projects. He worked very hard, excelling as a carpenter, mason, and superintendent of construction. His career finally earned him to be a well-respected construction manager with the NY State Office of General Services, which expanded over 20 years. Paul continued to help others with home improvement projects and enjoyed cooking and creating keepsakes in his workshop, from end tables, and boxes, to crosses, and puzzles. He LOVED making sawdust! In 2002, Paul was blessed and united in marriage to Carole Philips and her wonderful family. Paul and Carole enjoyed traveling and volunteering their time to their church.
Paul is survived by his son and daughter in law Michael (Pam) Semo, of Auburndale, FL, one grandson Michael (Beatrice) Semo, one granddaughter, Kristi (Scott) Stiner, and great-grandchildren, Owen Stiner, Kylie Stiner, Ian Semo, Paul Semo, James Semo, and Patrick Semo, and many nieces and nephews. He is also survived by his wife Carole, and her daughters, Luanne (Bill) Wolff, Susie (Scott) Mensch, Penny (Ellie) Erlston-Phillips, and her grandchildren, Michael (Kaylyn) Wolff, Megan Wolff, Carrie (Larry) Recla, Phillip Mensch, and Frankie Fortunato.
A Memorial Service will be held at the Nicholas J. Bush Funeral Home, Inc, 7751 Merrick Rd, Rome, NY, in the spring.
In lieu of flowers, please reach out and help a friend or neighbor, in Paul's memory.
To offer online condolences, please visit www.njbushfuneralhome.com