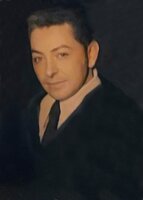 Matthew J. Orlando
Matthew J. Orlando, 89, of Rome, NY, and formerly of Newark, NJ, passed away peacefully on Tuesday, March 7, 2023, at Rome Health Residential Healthcare Facility. He was born in Newark, NJ, on May 15, 1933, son of the late Matteo and Lucy Lombardo Orlando. Matthew served honorably with the U.S. Air Force as an air defense surveillance operator from 1952-1956. On Feb 21, 1954, he married Teresa Ferrante. They were married for 66 years prior to her passing in 2020. Matthew worked for several companies throughout his career, finally retiring from BASF after 25 years. Matthew always had a joke (or many) to make people laugh. He enjoyed going to the casinos, bowling and was a loyal Yankees fan for 80 years. Hey Pop, we'll "See Ya!"
Matthew is survived by his children, Lucille Radwanski (Joseph), Matteo Orlando (Patricia), Theresa Orlando (Joe Gallo), Patsy John Orlando (Marlene), and John Orlando (Elaine) 9 grandchildren and 4 great grandchildren.
A Mass of Christian burial will be held on Saturday April 15, 2023 at St. John the Baptist Church, 210 E. Dominick St., Rome, NY, at 11:00 am, with the Rev. Paul F. Angelicchio officiating. Military Honors will be rendered following Mass. The family will receive friends at Church from 10:00 am to 11:00 am prior to Mass. Private entombment will be in St. John the Baptist Cemetery.
In lieu of flowers, memorial contributions in Matthew's name may be made to a charity of one's choice.
Arrangements are by the Nicholas J. Bush Funeral Home, Inc., 7751 Merrick Rd., Rome, NY.
To offer online condolences, please visit www.njbushfuneralhome.com