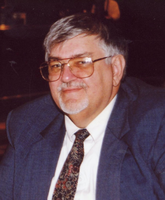 Thomas J. Lubecki
Thomas J. Lubecki
Thomas J. Lubecki, 70, of Rome, passed away on Sunday, April 23, 2017 at St. Joseph's Hospital in Syracuse, NY. He was born in Rome, NY, on August 16, 1946, son of the late Frank and Marie Lubecki. On August 24, 1973 he married Anne M. Bush. From the week after Tom graduated from Le Moyne College in 1968, he began working for N.Y.S. Department of Taxation and Finance until his retirement in August of 2001. Tom was very devoted to his faith. He held a variety of offices in his church of St. Mary's/ St. Peter's Parish, including Eucharistic Minister, President of the Men's Club, Treasurer of BINGO, Founding member of St. Mary's Adult Social Happenings, Trustee of St. Mary's Parish, Chairman of Parish Council, and Chairman of the Finance Committee. He felt committed to live his faith by donating to many diverse charities. Tom had a very caring and giving heart, and will be greatly missed.
Surviving is his wife, Anne, are a son; Steven M. Lubecki of Providence, Rhode Island, a daughter and son-in-law; Melissa and Brett Pandillo, Fayetteville, NY, grandchildren, Patrick T. Lettery and Eliana R. Pandillo. Also surviving are a brother and sister-in-law, Donald and Karen Lubecki, Rome, brothers-in-law and sisters-in-law; Henry and Gayle Bush, Rome, and Paul and Catherine Bush, Auburn,NY, a niece, Susan Bush Orman, and nephews; Paul Bush, Michael Bush, Matthew Lubecki, Mark Lubecki and several cousins.
A Mass of Christian Burial will be celebrated on Saturday, April 29, 2017 at 11:30 a.m. at St. Mary's Church, 210 W. Liberty St., Rome, with the Rev. Philip Hearn officiating. Friends may call at the Nicholas J. Bush Funeral Home, Inc, 7751 Merrick Rd., Rome on Friday April 28, 2017, from 4-7 p.m. Burial will be in St. John the Baptist Cemetery.
Memorial contributions may be made to The Humane Society of Rome, Inc., P.O. Box 4572, Rome, N Y 13442-4572, Jervis Library, 613 N. Washington St., Rome, NY 13440 or The Mission of St. Mary's/St. Peter's Church, 105 E. Liberty St., Rome, NY 13440
To offer online condolences, please visit www.njbushfuneralhome.com