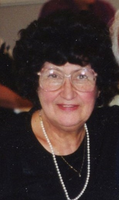 Gilda M. Destito
Gilda M. Destito, 90, of Rome, passed away on Monday October 22, 2018 at Betsy Ross Nursing and Rehab Center. She was born in Rome, NY, on February 20, 1928 daughter of the late Piacentino and Antoinette DiBenedetto Ciamponi. Gilda was a graduate of Rome Free Academy, Class of 1946. On September 11, 1948 she married, John D. Destito, in St. John the Baptist Church. He passed away August 14, 2010. Gilda was a member of St. John the Baptist Church. She enjoyed cooking and baking for her family, along with traveling to the casino.
Surviving are two sons and a daughter-in-law; John L. and Barbara Destito, Verona, Richard J. Destito, Rome, grandchildren; John P. and his wife Kaylee Destito, Carla Destito, Anthony Destito, Tony Otto, Stephen and his wife, Christy Otto, Kristin Otto, and Beth and her husband, Larry Franklin and nine great grandchildren. Also surviving are a brother-in-law, Gregory Destito, Rome, two nieces and their husbands; Lucy and Paul Hoffmann, FL, and Antoinette and Ray Gluchowski , NY City, and several other nieces and nephews and her Cummari, Lena DiDone. She was predeceased by her husband, John, a sister and brother-in-law, Carmella and Joseph Farino.
The family would like to express a thank you to Betsy Ross Nursing and Rehab Center Administration and a special thank you to the nurses and aides who were very respectful and attentive to Gilda.
A Mass of Christian Burial will be celebrated on Friday at 11:00 a.m., at St. John the Baptist Church with the Rev. Abe Esper officiating. Burial will be in St. John the Baptist Cemetery. Friends may call on Thursday from 4-6 p.m., at the Nicholas J. Bush Funeral Home, Inc., 7751 Merrick Rd.
To offer online condolences, please visit www.njbushfuneralhome.com