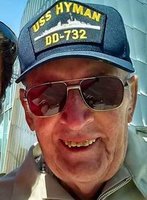 Phillip W. Brown
Phillip W. Brown
Phillip W. Brown, 92, of Rome, passed away on Thursday, November 15, 2018, at home, with his loving family by his side. He was born in Cortland, NY, on May 26, 1926, son of the late John D. and Esther Shuler Brown. Phillip served with the U.S. Navy from 1951-1959. He married Virginia Card. On November 29, 1980, he married, Angeline Campanella, she passed away March 9, 2015. Phillip retired from Griffiss Air Force Base in January of 1985. He was a member of St. Peter's Church and St. Peter's Seniors. Phillip was also a member of Rome VFW, Ft. Stanwix Stamp Club, NARFE, South Rome Senior Center and former member of Mohawk Valley Muzzle Loaders.
Surviving are a daughter and son-in-law; Victoria and Steven Davis, Pittsfield, PA, a step-daughter, LuAnn Boone-Isherwood and her husband Jeffrey, Rome, a stepson, Thomas E. Peterson, Rome, grandchildren; Nancy Nickerson, Joyce Davis, Cody Boone, Briana Ward, Morgan Boone, Kathleen Isherwood, Grace Isherwood, Joseph Peterson and Jon Peterson, and four great grandchildren. Also surviving is a sister Carolyn Leach, McGraw, NY, and a brother-in-law; Charles Rutan, McGraw, NY, and several nieces and nephews. He was predeceased by a brother, Thomas Brown and a sister, Mary Rutan.
Funeral Services will be held on Monday, November 19, 2018, at 9:45 a.m., from the Nicholas J. Bush Funeral Home, Inc., 7751 Merrick Rd., and at 10:30 a.m., at St. Peter's Church where a Mass of Christian Burial will be celebrated. Burial will be in St. John the Baptist Cemetery with Military Honors. Friends may call at the funeral home on Sunday from 3-6 p.m.
Memorial Contributions may be made to Humane Society of Rome, Inc., P.O. Box 4572, Rome, NY 13442-4572
To offer online condolences, please visit www.njbushfuneralhome.com