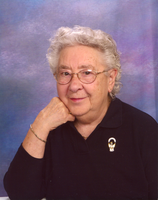 Virginia R. Brognano
Virginia R. Brognano, 94, of Rome, passed away peacefully, Thursday, December 6, 2018, with her loving family by her side at Rome Memorial Hospital Residential Health Care Facility. She was born in Rome, NY, on September 16, 1924, daughter of the late Richard and Florence Wilson Pallas. Virginia received her education from Altmar Parish Williamstown School and attended business school in Rome. On August 1, 1953 she married Joseph S. Brognano. He passed away March 15, 1988.
Virginia was a former employee of General Cable Corp. She was Office Manager of her husband's business, Joe Brown's Taxi. After the passing of her husband, Virginia was employed by the American Red Cross and scheduled it's Bloodmobiles. After her retirement she continued on as a volunteer for the Bloodmobiles. She found joy in cooking, baking and spending time with her family and friends. Virginia was an avid reader and enjoyed crossword puzzles. She also enjoyed summers at Sylvan Beach at the family camp.
Surviving are a son and daughter-in-law, Joseph R. and Laurie Brognano, Vernon Center, a daughter and son-in-law, Carol and Michael Manuele, Rome, four grandchildren; Allan (AJ) Meier, Pamela Meier and David Matt, Joseph E. Brognano and his wife Sarajane and Jeanne M. Brognano and Andrew Sparrow, five great grandchildren; Kayleigh, Jaylynn, David, Ember and Afton and several nieces, nephews and cousins. She was predeceased by her brother, SGT. Richard A. Pallas, NYSP, and her step-daughter, Nancy Bourgeois.
The family would like to express a special thank you to the staff and friends of three North at Rome Memorial Hospital Residential Healthcare Facility for their care and compassion shown to Virginia.
Funeral Services will be held on Monday, December 10, 2018, at 10:00 a.m., at the Nicholas J. Bush Funeral Home, Inc., 7751 Merrick Rd. Private Burial will be in Evergreen Cemetery. Friends may call at the funeral home on Sunday, December 9, 2018, from 2-5 p.m.
In lieu of flowers, memorial contributions may be made in Virginia's name to the American Red Cross, 125 Business Park Dr., Suite 200, Utica, NY 13502 or online American Red Cross Mohawk Valley, or Rome Memorial Hospital Foundation, 107 E. Chestnut St., Suite 100, Rome, NY 13440 or www.romehospital.org.
To offer online condolences, please visit www.njbushfuneralhome.com