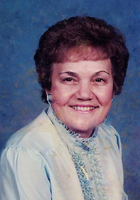 Erminia "Dolly" Bragg
Erminia, "Dolly" Bragg, 86, of Rome, passed away peacefully in her sleep on Monday, December 31, 2018, in Nags Head, NC. Dolly was born on April 5, 1932 in Rome, NY, and was the youngest child of the late Dominick and Rose Renzi DiCaprio. She was a 1949 graduate of Rome Free Academy and spent her entire life in Rome. Dolly was a staunch supporter of Rome; she was on the Board of Education for many years, active in local politics, and fought hard to keep "The Griff" from closing due to BRAC. She had a stellar career at Griffiss Air Force Base, retiring as the Chief of the Supply after thirty-eight years of service. One of her greatest accomplishments was the passing of the Brady Bill (now the Family Leave and Care Bill). Dolly worked hard to ensure her coworker was able to receive donated sick leave to help cover her during battle with breast cancer. The bill was signed into law in 1988, by then President Ronald Reagan. She always supported the athletic programs both as a fan and while working on the Board of Education. Dolly never missed a football or basketball game when her son David was attending RFA. She also played on the Candyland Women's Softball Team. Dolly was active in the GALS Club and loved all the bus trips she took with the group. She worked hard to keep the ROAMA reunions going throughout the years when the numbers were dwindling and could not continue. She really missed them. Dolly was a member of St. John the Baptist Church.
Surviving are two sons and a daughter-in-law; David and Dee Bragg, Nags Head, NC, and Tim Bragg, Little Falls, NY, and many nieces and nephews. She was predeceased by two sisters and brothers-in-law, Jessie and Frank Gualtieri, Mary and Tony Esposito, three brothers and sisters-in-law, Funzie and Flora DiCaprio, Joseph and Mary DiCaprio, Robert and Josephine (Jo-Jo) DiCaprio, a niece (that she felt was more like a sister) Toni Coote and the father of her children, David Bragg, Sr.
Funeral Services will be held on Saturday, January 5, 2019, at 10:15 a.m., from the Nicholas J. Bush Funeral Home, Inc., 7751 Merrick Rd., and at 11:00 a.m., at St. John the Baptist Church for a Mass of Christian Burial with the Rev. Paul F. Angelicchio officiating. Burial will be in St. John the Baptist Cemetery. Friends may call at the funeral home on Friday, January 4, 2019 from 4-7 p.m.
To offer online condolences, please visit www.njbushfuneralhome.com