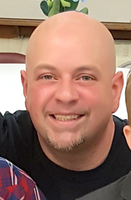 Michael J. Calandra
Michael Joseph Calandra, 38, of Rome, went home to be with the Lord on Sunday, February 10, 2019. He was born in Rome, NY, on July 17, 1980 the son of Robin Zigrino Calandra and Salvatore "Sam" Calandra. Michael graduated from Rome Free Academy and attended Mohawk Valley Community College. He was an active member of St. John the Baptist Church.
Michael's greatest joy in life, were his sons, Dominic and Noah. He loved spending time with them, whether it was playing football, trips to the park, playing games together or simply making them laugh, his boys meant everything to him. He had many titles in his life. Michael was a son, a brother, a father, a grandson, a nephew, an uncle, a Godfather, a cousin, a friend (who was known as Ziggy by many), but above all he was a good man. Michael would give you the shirt off his back if he knew you needed it. His presence brought light to any room that he entered, his heart was bigger than life, and his smile was contagious. He always knew how to make you laugh.
Michael is survived by his sons; Dominic and Noah Calandra, his mother, Robin Calandra, his father, Sam Calandra, a sister, Samantha (Nate) Piquette, and his maternal grandmother, Beverly Zigrino, all of Rome and several aunts, uncles, nieces and cousins. He was predeceased by his maternal grandfather, Joseph Zigrino, Sr.,a cousin, Joseph Zigrino III, an uncle, Edward "Eddie" Zigrino, his paternal grandparents, Salvatore and Maria Calandra and an uncle, Guy Calandra.
A Mass of Christian Burial will be celebrated on Friday, February 15, 2019 at 11:00 a.m., at St. John the Baptist Church with the Rev. Paul F. Angelicchio officiating. Spring Burial will be in St. John the Baptist Cemetery. Friends may call at the Nicholas J. Bush Funeral Home, Inc., 7751 Merrick Rd., on Thursday from 4-7 p.m.
To offer online condolences, please visit www.njbushfuneralhome.com