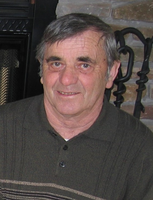 Mario Monterastelli

Mario Monterastelli, 82, of Rome, passed away on Friday, March 22, 2019, at home. Born on August 15, 1936 in Fiumalbo, Province of Modena, Italy, he was the son of the late Emilio and Maria Biondi Monterastelli. He was married in Fiumalbo on April 4, 1964, to Natalia Maria Amidei, his beloved wife of over 50 years, who predeceased him in 2016.
A devoted husband, father, grandfather, and friend, Mario's passions included wine making, cooking, gardening, fishing, and love of family. Mario was a member of the Dodge City soccer team beginning in 1963 and continuing for 12 seasons, the last 8 as the team's captain. When his playing days were over, he continued as a coach for both his former team and for Notre Dame High School.
Mario was a mason and general contractor who had the privilege of doing what he loved for a living with his closest friends. He was employed by Danti Construction, Rome, shortly after his arrival to the US and continued with them until retirement. Mario was a member of St. John the Baptist Church and the Toccolana Club, where he enjoyed the game of Bocce both as a player and as a spectator.
Mario is survived by his beloved family; a son and daughter-in-law, Emilio "Emo" and Sheila Monterastelli, of Southborough, MA, daughter and son-in-law, Lisa and Richard Streiff, of Jamesville, NY, and a grandson, Mario Henry Streiff. Also surviving are two sisters Marisa Nizzi, Rome, NY and Rina Lenzini, Fiumalbo, Italy, several nieces, nephews, brothers and sisters-in-law, and special friends the Danti, Botticelli, and Streiff families.
Funeral Services will be held on Wednesday, March 27, 2019, at 10:15 a.m., from the Nicholas J. Bush Funeral Home, Inc., 7751 Merrick Rd., and at St. John the Baptist Church at 11:00 a.m., where a Mass of Christian Burial will be celebrated by the Rev. Paul F. Angelicchio. Burial will be in St. John the Baptist Cemetery. Friends may call at the funeral home on Tuesday from 4-7 p.m.
Memorial Contributions may be made in Mario's name to St. Jude Children's Research Hospital at Memorials Processing, St. Jude Children's Research Hospital, 501 St. Jude Pl, Memphis, TN 38105-9959 or online at www.stjude.org
To offer online condolences, please visit www.njbushfuneralhome.com