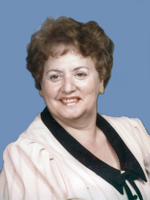 Carmella C. Schillaci
Carmella C. Schillaci, 86, of Rome, passed away Thursday, April 4, 2019. She was born in Swoyersville, PA, on July 18, 1932, daughter of the late Luigi and Concetta Ballero Geno. Carmella attended Rome schools and and received her training as a Licensed Practical Nurse from Madison-Oneida BOCES. On February 27, 1954 she married Frank C. Schillaci in St. John the Baptist Church. He passed away September 30, 1991. She retired from Rome Developmental Center and was a former employee at Oneida County Hospital. Carmella was a member of St. John the Baptist Church, South Rome Senior Citizens Center and Rome Moose Club. Carmella enjoyed many family vacations with her husband and daughters. Bus trips with her sister Lucy. Baking cookies at Christmastime, feeding stray cats in the neighborhood and extolling the accomplishments of her children and grandchildren were among her favorite pastimes. Carmella was also a student of metaphysics and enjoyed reading and writing poetry. She was feisty, strong-willed and lived life on her terms.
Her family would like to thank the staff at Bethany Gardens, particularly the nurses and aides on floors four and six, for their assistance and thoughtfulness over the years.
Surviving are two daughters, Theresa A. Schillaci and husband Samuel J. Sanzone, Delmar, NY, Salvatora and husband, Francis Szmurlo, Rome, grandson Frank Page and wife Lezley LaForest-Page, Rome, granddaughter Anna Sanzone and great-grandaughter Lauren LaForest. She is also survived by sister Josephine Przelomiec, Glassboro, NJ, sister-in-law Angeline Schillaci and brother-in-law David Schillaci both of Rome and many nieces and nephews.
She was predeceased by her husband Frank, brothers, John, Joseph, Raymond and Anthony, sisters; Dora, Jean and Lucy, brother-in-laws Salvatore and Joseph, sisters-in-law Rose LoRusso, Grace and Mary Schillaci, Josephine Ortolano and Pauline Mazzaferro.
A Mass of Christian Burial will be celebrated on Wednesday, April 10, 2019 at 11:00 a.m., at St. John the Baptist Church with the Rev. Paul F. Angelicchio officiating. Burial will be in St. John the Baptist Cemetery. Friends may call at the Nicholas J. Bush Funeral Home, Inc., 7751 Merrick Rd., on Tuesday from 4-7 p.m.
Memorial contributions may be made in Carmella's name to the Humane Society of Rome, Inc., P.O. Box 4572, Rome, New York 13442-4572.
To offer online condolences, please visit www.njbushfuneralhome.com