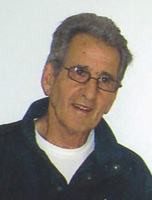 Anthony Petrelli
Anthony Petrelli, Sr., 78, of Rome, beloved husband, father, grandfather and brother, passed away on Monday, July 22, 2019 at Rome Memorial Hospital. Anthony was born in Rome, NY, to Victoria Bartolotti and Joseph Petrelli on Sept, 1, 1940. He was a graduate of Rome Free Academy Class of 1958. Anthony proudly served in the United States Air Force from 1958 to 1962. On September 1, 1962 he married Marie D'Amore in St. John the Baptist Church. Anthony was employed as a truck driver by Boss Linco and ABF for 35 years. He was also employed at Turning Stone Golf Course. Anthony was a member of St. John the Baptist Church.
Anthony enjoyed golfing with family and friends and his greatest joy was spending time with his grandchildren.
Anthony is survived by his wife of 56 years Marie, a son Anthony Jr. (Michele) and children Stephen, John, Garrett and Anthony of Baldwinsville, a daughter, Diane (Robert) Nardslico and children Nicholas, Alaina, Anna and Alyssa of Ava, a son, David (Marianne) Petrelli and children Paulena, Arianna and Nikalena of Rome. Also surviving are a sister,Virginia (Joseph) Consiglio, and a brother, Joseph (Anita) Petrelli all of Rome, a brother-in-law, Raymond (Ellen) D'Amore, Herndon, VA and several nieces and nephews. He was preceded in death by his parents Victoria and Joseph Petrelli, mother-in-law and father-in-law, Sandina and Stephen D'Amore and a sister, Joanne (Petrelli) Sheehan.
The family wishes to express a special thank you to the staff at Rome Memorial Hospital for their care and compassion shown to Anthony, especially the nurses on 2 North.
A Mass of Christian Burial will be celebrated on Thursday, July 25, 2019 at 11:00 a.m., at St. John the Baptist Church with the Rev. Paul F. Angelicchio officiating. Burial will be in St John the Baptist Cemetery. Friends may call at the Nicholas J. Bush Funeral Home, Inc., 7751 Merrick Rd., on Wednesday, July 24, 2019, from 4-7 p.m.
In lieu of flowers, memorial contributions may be made in Anthony's name to a charity of your choice.
To offer online condolences, please visit www.njbushfuneralhome.com