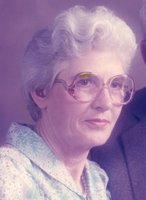 Helen G. Tyler
Helen G. Tyler, 95, of Lee Center, passed away on Sunday, August 4, 2019, at Bethany Gardens. She was born in Lee Center, NY, on January 24, 1924, daughter of the late George and Katheryn Ragola Nowiski. Helen was a graduate of West Leyden High School. On September 28, 1946 she married Berton C. Tyler, Jr., in Transfiguration Church, Rome. He passed away January 28, 2002. She retired from the former Holiday Inn, Rome. Helen was a member of St. Joseph's Church, Lee Center, and an honorary member of Lee Legion Auxiliary.
Surviving are four sons and daughters-in-law; Timothy R. and Patricia Tyler, Albuquerque, NM, Donald L. and Wendi Tyler, Kingston, CO, Gerald M. and Mary Tyler, Lee Center, Scott E. and Marcia Tyler, Lee Center, nine grandchildren and twenty great grandchildren and one great great grandchild. Also surviving are several nieces and nephews. She was predeceased by her husband, Berton, a son, Gary B. Tyler, a grandson, Darryl S. Tyler, four brothers; Stanley, Alex, John and Walter Nowiski, and three sisters; Sophie Bachman, Nellie Brown, and Gladys Dutch.
The family wishes to express a special thank you to the staff of the Terrace at the Woodland and Bethany Gardens for their care and compassion shown to Helen.
A Mass of Christian Burial will be celebrated on Friday, August 9, 2019 at 10:00 a.m., at St. Joseph's Church, Lee Center, where relatives and friends are invited to attend. Burial will be in St. Mary's Cemetery, Rome. Friends may call at the Nicholas J. Bush Funeral Home, Inc., 7751 Merrick Rd., Rome, on Thursday, August 8, 2019, from 4-7 p.m.
In lieu of flowers, memorial contributions may be made in Helen's name to: Alzheimer's Association Central New York Chapter, 441 W. Kirkpatrick St., Syracuse, NY 13204-1305.
To offer online condolences, please visit www.njbushfuneralhome.com