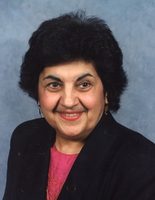 Theresa S. Sergio
Theresa S. Sergio, fondly known as "Sito", 86, of Rome, passed away Saturday, September 28, 2019 at Rome Memorial Hospital. She was born in Utica, NY, on October 12, 1932, daughter of the late Ferris and Barbara Harb Nojaim. Theresa graduated from Proctor High School Class of 1950. Theresa was formerly married to the late Humbert D. Sergio. She retired from Griffiss Air Force Base and was a former employee of Met Life. Theresa was a member of St. John the Baptist Church, Marion Guild, G.A.L.S., and South Rome Senior Center.
Surviving are two daughters; Donna Sergio- Neidig and her husband Rich, Rome, and Carla J. Scotto, Pittsford, NY, nine grandchildren and eleven great grandchildren. Also surviving are a brother and sister-in-law, Donald and Lucy Nojaim, Utica, and several nieces and nephews. She was predeceased by two daughters; Karen Sergio and Dina Sergio.
A Mass of Christian Burial will be celebrated on Thursday, October 3, 2019, at 11:00 a.m., at St. John the Baptist Church, 210 E. Dominick St., Rome, with the Rev. Paul F. Angelicchio officiating. The family will receive friends at church from 10:00 a.m. - 11:00 a.m., prior to the Funeral Mass. Burial will be in St. John the Baptist Cemetery. There are no calling hours.
Arrangements are by the Nicholas J. Bush Funeral Home, Inc., 7751 Merrick Rd., Rome, NY.
To offer online condolences, please visit www.njbushfuneralhome.com