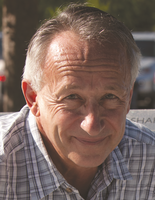 John M. Capoccia
John M. Capoccia
John Michael Capoccia, resident of Rome, formerly of Frederick, MD, passed away on April 20, 2020 at the age of 67. John was born on December 21, 1952 in Rome, NY to Leo R. and Rose Marocchi Capoccia.
John's father's career took the family to several places across the country. John spent the majority of his youth in Topeka, KS and had many fond memories of his time at Hayden High School. The family moved back to Rome when he was a teen, and he attended Rome Free Academy where he varsity lettered in wrestling. He graduated from RFA in 1971, and then attended college at SUNY Utica/Rome and Utica College of Syracuse University majoring in Civil Engineering. He lived and worked in Syracuse for many years before making his home in Frederick, MD. He worked in the construction industry, and was most recently Director of Design and Construction for Core Development in Frederick. He was also a former member of Frederick's Board of Zoning Appeals.
Everyone who knew John knew that he was an avid runner, completing countless road races and marathons, including running the New York Marathon multiple times. He turned his passion for running into an award winning public television show called Inside Running, even carrying a camera with him while running the Boston Marathon for one memorable episode. He also had a passion for vintage Mustangs. He enjoyed rebuilding their engines and loved racing them even more. John helped organize many Mustang enthusiast drives, including the Catoctin Mountain Cruise. John easily made friends and had a love of life and an irresistibly positive outlook that we'll never forget.
John was particularly proud of his years of community service with the Rotary Club of Carroll Creek, and his position as Past President of RCCC. His work included trips to Richmond, South Africa to work with the Hope in South Africa project supported by the Rotary club, which provides aid for community development, HIV/AIDS and Fetal Alcohol Syndrome awareness, sports-based education, and clean water and sanitation systems. Through the RCCC John built not only a professional network, but a network of friends.
He will be sadly missed by his daughters, Carolyn (Greg) Smith and Jennifer (Barry) Gum, whom he shared with his former wife, Tara Murphy Bonadio. Grandchildren Gillian and Caitlyn Smith, Jaxson and Kailey Cornelison. His brother and partner in crime, Leo R. Capoccia III, sister in law Paula Capoccia, sister, Rachel M. Capoccia, brother in law Les Hairrell, and sister in law Becky Capoccia. His nieces Andrea, Kathleen, nephews Ben, Nick, and Ted. His extended family and vast network of friends all knew the depth of his love for each and every one of them. He was predeceased by his parents, Rose and Leo, brother, Ron Capoccia, and sister, Peggy Anne Capoccia.
The family would like to extend their appreciation for the staff at The Grand, for the compassionate care each and every one of them provided to John.
A Funeral Mass will be held on Saturday, August 6, 2022, at 11:00 a.m., at St. Peter's Church, 200 N. James St., Rome. The family will receive friends following the Funeral Mass.
Memorial donations may be made in John's memory to the Rotary Foundation at https://www.rotary.org/en/about-rotary/rotary-foundation.
Arrangements are by the Nicholas J. Bush Funeral Home, Inc., 7751 Merrick Rd.
To offer online condolences, please visit www.njbushfuneralhome.com