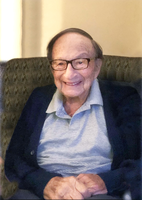 Gregory G. Destito
Gregory G. Destito, "The Greatest", 98, of Rome, passed away peacefully Thursday, December 24, 2020, at Rome Memorial Hospital. He was born in Rome, NY, on March 29, 1922, son of the late Saverio and Theresa Bartolotti Destito. Greg attended Rome Schools. He proudly served with the U.S. Army during WWII with the 34th Combat Engineers. On June 12, 1946, he married Mildred "Penny" Rost, in St. John the Baptist Church Rectory, a blessed union of seventy years. She passed away October 28, 2016. Greg was co-owner and operator of King Pin Lanes with his brother, brother-in-law and uncle and later became sole owner. He was a former employee of Revere Copper and Brass and Nolan, Hayes and Warcup. Greg was a member of St. John the Baptist Church. He was a former member of VFW Rome Post #2246, Galliano Club and Rome Moose Club for over fifty years, and life member of HP Smith Post #24 American Legion.
Greg worked hard all of his life and became a successful business man owning and operating King Pin Lanes for many years and in 1985 was inducted into the Bowling Hall of Fame. He especially enjoyed visits from his grandchildren and great-grandchildren, who always brought a smile to his face. He loved planting his garden and took great pride in sharing his wealth of tomatoes. He enjoyed the outdoors, golfing, hunting, playing bocce and fishing. For over fifty years Greg enjoyed spending time at his summer camp in Alexandria Bay. He made many friends at camp and thought very highly of his fishing buddy Swifty. He took pride in taking friends and families out for boat rides, water skiing and fishing. For many years Greg and his wife enjoyed winters in Florida and he loved going to the horse race track. Greg made so many friends over the years and his family would like to thank those friends who continued to stop by and visit with him; Jim Byrnes, Lenny Costello Sr., Fred Boehlert, John Gifford, Roy Barnes, David Scaccia, Lenny Costello Jr., and Vinny DiMaggio Jr.
Greg had quite a sense of humor and most times had no filter. Although he was ninety-eight, he still was a character to the EMT driver, on the day he left to the hospital.
Surviving are four daughters and two sons-in-law; Cynthia Destito, NV, Carol and Donald Yousey, NC, Crystal and Ralph LaLonde, Lee Center, NY, and Cheri Destito, Rome, NY, nine grandchildren, sixteen great-grandchildren, and several nieces, nephews and cousins. We are so fortunate that Greg was able to live at home, thanks to his daughter, Cynthia who moved back from Nevada to care for him. He was so grateful for that as he wanted to be in his own house.
He was predeceased by his wife, Penny, a sister, Concetta "Babe" Guaspari, two brothers, Joseph and John Destito and his dear friend, Pat Spado.
A Mass of Christian Burial will be celebrated on Tuesday, May 11, 2021, at 12:00 noon at St. John the Baptist Church with the Rev. Paul F. Angelicchio officiating. Anyone wishing to attend is required to wear a mask and adhere to social distancing guidelines. Burial with Military Honors will be at Old St. Peter's Cemetery.
Memorial contributions in Greg's name may be made to a charity of one's choice.
Arrangements are by Nicholas J. Bush Funeral Home, Inc., 7751 Merrick Rd.
To offer online condolences, please visit www.njbushfuneralhome.com