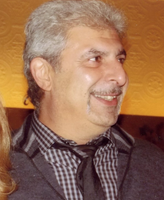 Vincent S. Sparacine
Vincent S. Sparacine, 61, of Clinton, formerly of Rome, passed away unexpectedly on Tuesday, January 5, 2021, at home. He was born in Rome, NY, on February 21, 1959, son of the late Salvatore V. and Dolores B. Salamey Sparacine. Vinny was educated in local schools. He was a television technician at the family business, Rome T.V. Center. He was a member of St. John the Baptist Church.
Surviving are a sister and brother-in-law, Samia and Dominick DeAngelo, Rome, an aunt, nephews and cousins. He was predeceased by his parents, Sam and Dolores Sparacine.
A Mass of Christian Burial will be celebrated on Wednesday, January 13, 2021, at 11:00 a.m., at St. John the Baptist Church with the Rev. Paul F. Angelicchio officiating. Anyone wishing to attend is required to wear a mask and adhere to social distancing guidelines. There are no calling hours. Private burial will be in St. John the Baptist Cemetery.
Memorial contributions may be made in Vincent's name to: Stevens-Swan Humane Society, 5664 Horatio St., Utica, NY 13502.
Arrangements are by Nicholas J. Bush Funeral Home, Inc., 7751 Merrick Rd.
To offer online condolences, please visit www.njbushfuneralhome.com