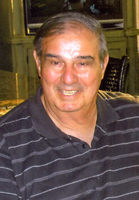 Carmen T. "CTG" Gratch
Carmen Thomas Gratch, (known as "CTG"), age, 81, of Rome, passed away on Thursday, February 4, 2021, in Syracuse, NY.
A Mass of Christian Burial and calling hours will be held in May due to COVID-19 restrictions with the Reverend Paul Angelicchio officiating. Burial will be held in St. John's the Baptist Cemetery.
Carmen was born in Rome, NY, son of the late Angelo and Angelina DeCandia Gratch on May 10, 1939. He graduated from Rome Free Academy in 1957. Carmen went on to serve in the U.S. Army. From there, he worked as a Data Analyst at Griffiss Air Force Base until he retired. For Carmen, nothing was more important than family. He wanted to make everyone laugh and enjoyed sitting around the table with good conversation. His good friends also became as close as family and everyone felt at home with him. Growing up on River Street, he developed close friendships that lasted his lifetime. These friendships and their families were deep and lasting. That's who he was at his core. Through the years, he excelled at most sports and even earned the coveted 300 score in bowling when he was in his late 30's. His family enjoyed that trophy for many years longer. Carmen enjoyed basketball, golfing, and fishing quite a bit. He loved taking his grandsons fishing. Whenever he went out, people would always come up to say hello and he made the time to talk to everyone whether he was at the Iron Kettle after church or in the grocery store. For those who left ahead of him, he never forgot one of them. We are sure they will be spending much needed time together as he has missed them so much.
Carmen is survived by his wife, Renate, Rome, daughters, Ingrid Davies (Darrell), Las Vegas, NV, Donna Gratch Manion, Rome, NY, and Monica Metz (Brian), Richmond, VA. He is also survived by his cherished grandchildren who meant the world to him, Anthony Barber (April), Aidan Metz, and Samara Metz. A sister, Lucille Gratch, Manhattan, NY, brother, Michael Gratch, Oklahoma City, OK, Carmen leaves behind his niece and nephew who he loved very much, Luci Ann Gratch and Steffen Mesletzky. He had more extended family and friends than we could possibly include here; but, if you were his friend, he did deeply care for you. He is preceded in death by his mother and father, Angelina and Angelo Gratch, mother-in-law, Hermine Bauer, sister-in-law, Susan Gratch, and granddaughter, Myia Angelina Metz.
The family would like to thank the many doctors and nurses for all of their help with Carmen, over the past 20 years. We appreciate all of their assistance.
Arrangements are by the Nicholas J. Bush Funeral Home, Inc., 7751 Merrick Rd.
To offer online condolences, please visit www.njbushfuneralhome.com