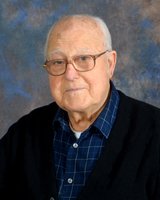 Larry J. Migliori
Larry J. Migliori, 95, of Rome, passed away peacefully on Tuesday, August 3, 2021, at Upstate University Hospital, Syracuse.
He was born in Rome, New York, on July 7, 1926, son of the late Rocco and Maria Vero Migliori. Larry was a 1944 graduate of Rome Free Academy. He was inducted in the U.S. Army in, October 1944, and served as Staff Sergeant in Company H 35th Infantry. Larry was given an Honorable Discharge on Nov. 15, 1946 after serving in WWII.
On November 15, 1947, Larry married Rose Mercurio in St. John the Baptist Church, a blessed union of 59 years until her passing on March 14, 2006. With Rose by his side, Larry opened Larry's Tire Service in 1969, serving the public for 49 years. Larry was a trumpeter in a big band: he was an avid fisherman and loved to garden, hunt and spend time with his grandchildren.
Surviving are Larry's son, Larry J. Migliori, two daughters and sons-in-law; Laraine and Vincent Esposito, all of Rome, Maria and Alan Ringlund, Lee Center, four grandchildren: Justina Cesari, Rachel and her husband Craig Anken, Joanne and her husband Edward Jandreau and Elizabeth and her husband Lorne Giles, six great- grandsons, Adam Gillette, Joshua Anken, Luke and Sean Jandreau, Ilario and Angelo Giles and 3 great grand- daughters Nicole, Krista, Teresa Anken. Also surviving are several nieces and nephews.
Larry was predeceased by his wife Rose, his brothers and sisters-in-law; Anthony and Helen Migliori, Rocco and Jenny Migliori, Vincent and Helen Migliori, and sisters and a brother-in-law; Anna Migliori and Patricia and Baldino DeProspero , and in-laws; George and Mary Mercurio, Joseph and Dorothy Mercurio, Elena and August Scalero and Isabel and James Mannino.
The family wishes to express a special thank you to the medical staff of Upstate University Hospital Syracuse, Dr. Butala and entire Oncology Team of Faxton- St. Luke's Healthcare, his caregiver, Rhonda Pycior, along with all of those who helped care for Larry.
A Mass of Christian Burial will be celebrated on Tuesday, August 10, 2021, at 11:00 a.m., at St. John the Baptist Church with the Rev. Paul F. Angelicchio officiating. Burial will be in St. John the Baptist Cemetery. Friends may call at the Nicholas J. Bush Funeral Home, Inc., 7751 Merrick Rd., on Monday, August 9, 2021, from 4-7 p.m.
Memorial contributions may be made in Larry's name to a charity of one's choice.
To offer online condolences, please visit www.njbushfuneralhome.com